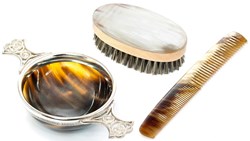 Toronto, Canada (PRWEB) July 31, 2012
Fendrihan, well-known in Canada for traditional men's shaving and grooming supplies, is delighted to announce the addition of natural male grooming products by Abbeyhorn to its collection. Adding this international brand to its impressive list of more than 1,250 products from across the globe is Fendrihan's latest triumph. This company prides itself on offering the highest quality products, which are often difficult to find anywhere else. These items are available to Fendrihan's valued customers effective immediately.
Abbeyhorn crafts its male grooming products from natural materials such as horn, antler and bone. Their brushes feature natural bristles. Abbeyhorn originated in the United Kingdom in 1749. It was owned by the same family, the Humphersons, for an impressive 171 years. Today, it is owned by the Groves, a family with a rich history that goes back to the 1500s when they began producing horn buttons. Abbeyhorn is dedicated to the continued production of exquisite natural products made with horn, antler and bone. Abbeyhorn items available at Fendrihan include combs constructed from natural horn, natural bristle toothbrushes with bone handles and oval hair brushes made with natural bristles and real ox horn. They also stock a small horn bowl of Scottish origin, called a Quaich, which may be used as a shaving bowl.
The addition of select Abbeyhorn products to Fendrihan's online storefront makes it the only Canadian retailer to offer this historic brand. Explore at http://www.fendrihan.com.
About Fendrihan:
Fendrihan is the premier Canadian online destination for shaving and grooming supplies for men. With a comprehensive product range that includes traditional grooming staples, hard-to-find products from around the globe and some of the most reputed names in gentlemen's personal care, Fendrihan's selection appeals to veteran wet-shavers and men of any age looking to elevate their daily grooming rituals. The Fendrihan catalog also includes European leather accessories that offer organization and clever convenience demanded and appreciated by their customers.
Contact Info:
sales(at)fendrihan(dot)com