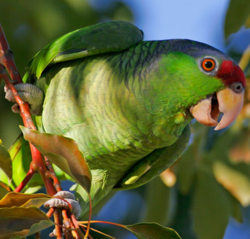 Orange, California (PRWEB) July 29, 2012
Announcing California Parrots, a website devoted exclusively to those wondrously amazing birds known as parrots.
Featuring the photography and articles of Mike Bowles and Loretta Erickson, this website aims to provide comprehensive information and quality photography to build awareness and appreciation for the Wild Parrots of Southern California. Flying free, these parrots have captivated residents, drawn tourism and warranted in-depth study of the ability of some parrot species to establish populations outside their native ranges. Having been documented in California since the 1960s, strong evidence suggests their presence began years before.
Many parrot species have become increasingly endangered in the wild. This is, in part, due to the international parrot trade -- a horrific practice that claims the lives of many unfortunate parrots each year. There are plenty of restrictions on this trade in many countries, however, the market still operates without regard for wild parrot populations. Nearly one third of all parrot species are endangered in the wild and still this practice continues.
According to recent statistics, 2,600 of more than 9,600 species of birds are subject to trade. 20% of these species are part of the Psittaciformes order (parrots). Thankfully, there are legalities and restrictions on the trade of Psittacidae. The most prominent such restriction is the Wild Bird Conservation Act, or WBCA, which was signed into law on October 23, 1992. The reason behind this legislation is to protect exotic bird species from international trade.
Due to this legislation, the number of U.S. parrot imports were dramatically reduced from over 100,000 annually to only hundreds. A more permanent ban of such imports was enacted in 2007, which allowed captive-bred birds from approved countries to be imported.
Because of the widespread and continuing risk of endangerment to all wild parrots, it is our mission to spread the word and increase awareness of illegal (and sadly, legal) activities that put wild parrots of Southern California populations at risk. This includes, but is not limited to habitat loss, the parrot trade, poaching, persecution and smuggling. Together with other efforts to focus attention toward this issue, we hope to deliver an 'up close and personal look' at the lives of wild parrots and continue the mission to keep all parrots flying free. Let's build a wonderful future together that does not include the extinction of wild parrot species.
Additional Resources Provided by Author:
http://www.orangecountyanimalrescue.com
http://www.landscaping-lawn-care-service.com/