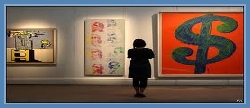 Online galleries is the ideal medium to enable art buyers and collectors see artwork worldwide twenty four hours a day.
Sarasota, FL (PRWEB) July 31, 2012
"Art is not what you see, but what you make others see." - Edgar Degas
The Art Marketing Agency confirmed art buyers, collectors and art professionals flock to the Internet in search of new artists and the best deals twenty four hours a day.
"Online galleries is the ideal medium to enable art buyers and collectors see artwork worldwide twenty four hours a day," observed, Tuck Tucker, Director, Art Marketing Agency.
There are more than two hundred worldwide online galleries with an influence that now plays a significant role in the success for any artist or art collector. In the past, artists, museums and galleries have been slow to embrace the Internet and social media market.
A recent report from IBISWorld estimates that the Online Art Sales industry in the U.S. was worth about $287.5 million in 2011. This figure includes the sale of original or limited-edition artwork through online galleries,online auctions, online art fairs, and online art dealing and trading.The sales figures included data from 716 businesses and covered the sale of paintings, drawings, sculpture, photographs, and other media. According to IBISWorld analysts, the market for online art sales has been growing in line with strong demand from overseas markets and increasing access to internet-based retail outlets.
The growth in art sales through e-commerce and online auctions is expected to continue through 2016, fueled by global growth in consumer spending and increased access through more broadband connections. Mobile apps are anticipated to provide further room for innovation in online art sales.See report: http://creativesatworkblog.com/2012/02/ibisworld-report-predicts-growth-in-online-art-sales/
To meet the growth of online galleries,the agency will categorize,describe and post artworks to the top performing online galleries. The Agency may even set up a salon or website.
The new service is designed to match artwork to the best performing online gallery and its buyers. The online gallery-matching will enable artists to optimize their marketing and efficiently reach the best art buyers at online galleries.
The Agency also announced it will now offer to its clients a valuable printed directory and E Book analyses characteristics and provides information about hundreds of galleries.
The Art Marketing Agency services enables artists, photographers and art collectors to work with an expert,objective team that will provide a portfolio and website review with an informative consultation. The agency then develops specific marketing plans to match the artworks with the appropriate online gallery.
From Karen T. in Arlington, Virginia, photographer: "The agency suggested I shift from 2 pay galleries to 5 non-pay and I am making more sales and saving money. What I liked is that their services are turnkey - they really did all the work to set me up with the online galleries after the consultation. Thanks Art Marketing for making my life and art marketing a lot more successful."
The artist or art professional may choose one of several consultation plans from fifty to one hundred and fifty dollars to review all aspects of their artwork including their website and marketing ideas. A valuable written summary and recommendations is provided to all clients.There is also a money back guarantee.
"Amateur and novice photographers may be sitting on a gold mine," observed, Tucker
Novice and beginner photographers may also put their family and travel photos to work. The agency will post a limited number of their photos from fifteen to twenty five dollars and may include a website. Novice photography program details are available at the http://www.theArtMarketingAgency.com.
For more details about the new service:
Please contact:Tuck Tucker: Agency Director at: 239 250 4920
email: BestArtmarketing(at)gmail(dot)com
http://www.TheArtMarketingAgency.com