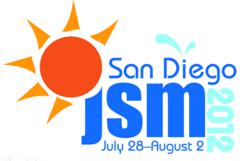 SAN DIEGO, CA (PRWEB) July 30, 2012
The American Statistical Association (ASA) has received a communication from the Embassy of the Argentine Republic regarding a paper to be presented at the Joint Statistical Meetings here on Wednesday, August 1. The paper is part of a two-hour session entitled "Repression of Statistics and Statisticians by the Argentine Government: Recent Developments, the Human Rights Context, and International Responses." The letter was attached to a document from Argentina's National Institute for Statistics and Census that defends the methodology INDEC (Instituto Nacional de Estadística y Censos) follows in the preparation of statistics and refutes charges of human rights violations.
The document references the fact that "certain sectors" have raised several issues "relating to the preparation of Argentina's official statistics." It goes on to say, "At the same time, a new and stronger action is emerging, as a result of the activities of several Argentine and international professionals who… have redirected the focus of their campaign to discredit INDEC by accusing the Institute and the Argentine Government of an alleged 'violation of human rights.'"
Since 2007, there has been a long-running controversy over the accuracy of the inflation numbers compiled by INDEC for Argentina. Argentine authorities also have fined and threatened criminal sanctions against statisticians and allied groups (including journalists and users of the controversial numbers) who, as part of their ongoing professional and scientific work, expressed their professional views and published alternative measurements of the consumer price index (CPI). Last year, the ASA helped to mobilize a coalition of national and international statistical organizations and professional societies urging UN Special Rapporteur Frank La Rue to protect those being targeted from further harm and from additional human rights violations.
The JSM paper, "Argentina: An Update on Credibility in CPI and Other Official Statistics and Perils Endured by Some Statisticians," reports on an assessment by a Commission of Universities of the technical work at INDEC. It also gives details of recent local developments and outside support to help stop the harassment of individual statisticians and private statistical agencies in Argentina, and discusses the need to promote a quick return to good professional practices. The paper was written by Edmundo Berumen of Berumen y Asociados SA de CV, Mexico, and Victor A Beker of the Economia de la Universidad de Belgrano, Argentina. Beker led the economic statistics program at INDEC before it was reformed in 2007.
The session is sponsored by ASA's Committee on Scientific Freedom and Human Rights and also includes the following presentations:

Human Rights and Statistics: A Reciprocal Relationship— Jessica Mary Wyndham, AAAS Scientific Responsibility, Human Rights and Law Program
International Responses to Governmental Targeting of Statisticians and Research Organizations in Argentina— William Seltzer, Fordham University
Descriptions of these presentations are available at http://www.amstat.org/meetings/jsm/2012/onlineprogram/ActivityDetails.cfm?sessionid=207391 in the online program on the JSM web site. The session will take place Wednesday, August 1, at 2 pm in room Sapphire IJ in the Hilton San Diego Bayfront Hotel. JSM is being held at the San Diego Convention Center July 28—August 2.
About JSM
JSM, which has been held annually since 1974, is conducted jointly with the American Statistical Association (ASA), the International Biometric Society (ENAR and WNAR), the Institute of Mathematical Statistics (IMS), the Statistical Society of Canada (SSC), the International Chinese Statistical Association, and the International Indian Statistical Association. JSM activities include oral presentations, panel sessions, poster presentations, continuing education courses, exhibit hall (with state-of-the-art statistical products and opportunities), career placement service, society and section business meetings, committee meetings, social activities, and networking opportunities. JSM 2013 will be held in Montreal, Canada, and JSM 2014 will be held in Boston, where ASA had its beginnings in 1839.
About the American Statistical Association
Headquartered in Alexandria, Virginia, the American Statistical Association is the world's largest community of statisticians and the second oldest continuously operating professional society in the United States. For more than 170 years, the ASA has supported excellence in the development, application, and dissemination of statistical science through meetings, publications, membership services, education, accreditation, and advocacy. Its members serve in industry, government, and academia in more than 90 countries, advancing research and promoting sound statistical practice to inform public policy and improve human welfare. For additional information about the American Statistical Association, please visit the ASA web site at http://www.amstat.org or call 703.684.1221.
#####
For more information:
Rosanne Desmone
703.946.3820 (mobile)
Rosanne [at] amstat.org