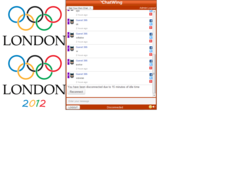 New York, NY (PRWEB) July 29, 2012
The long-anticipated London Olympics 2012 is about to spark and bring thrill for many people across the world. The mass anticipation was noted by the Chatwing development team, allowing its developers to launch a chat widget in alignment with the London Olympics. Bloggers and reviewers across the Internet can utilize Chatwing's chat application to discuss about the players, sports, scoring systems, and hype of the upcoming Olympics.
Based on tradition, the Olympics will be filled with various sports that people look forward to. These sports usually range from Basketball, Volleyball, Badminton, Archery, Swimming, Gymnastics, Cycling, Boxing, Weightlifting, and many more. Chatwing's free chat box can be used by Olympics fans to talk about their favorite sports and players. Moreover, Chatwing's application can help bloggers generate continuous visibility for their blogs, not only with the Olympics event, but also in the long run.
Few months ago, Chatwing has introduced its free chatbox to prominent blogging communities such as Livejournal and Wordpress. Because of the chat application's versatility, Chatwing has generated thousands of signups per day. This has contributed to Chatwing's overall rank. Recently, the Chatwing free shout box can accommodate up to 600 users in real time. To cope with large client influx in the coming months, the Chatwing dev team is planning to upgrade it to 1000. Chatwing users will also be able to have more login options other than Facebook and Twitter.
The Chatwing dev team and the rest of the world are expecting the London Olympics to be a thrilling event that will be recorded in history. As bloggers all over the world prepare their thoughts about the Olympics, the Chatwing team is introducing the chatbox to many people. In this way, the premise of website chat is highly empowered at a significant rate. The developers of Chatwing has also projected that there will be lots of influxes in various Chatwing chatrooms—all pertaining to the anticipated London Olympics of 2012.
About Chatwing.com
Chatwing.com specializes in the new field of website chat. Over years, the Chatwing team has introduced live chat box for hundreds and thousands of blogs. The Chatwing application bridges people from many parts of the world, creating global synergy through the Internet. The shout box can be installed in just seconds, and it can be used for varying purposes such as leisure and Internet marketing. It also allows a user to customize the size, color, and name of the widget. Chatwing is 100% free for everyone.