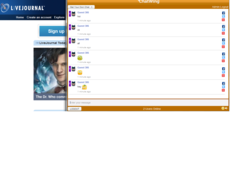 Seattle, WA (PRWEB) July 29, 2012
The Chatwing development team is now ready to help Livejournal bloggers attain a strong edge in the blogosphere. This is possible with the launch of Chatwing's latest chat widget loaded with potential communication features that can entice visitors from various parts of the Internet. This chat application has been introduced in other blogging platforms and received generally positive reviews. Chatwing's handy shout box can also be used as a visibility booster for any blog or website.
Chatwing takes pride on its chat tool's easy installation mechanism. After registering his blog's domain name, the user can now access the Chatwing dashboard and proceed to widget customization. In this next process, the user can now modify the size, color, and title of the free chat box. Once everything is complete, the user can now retrieve the widget's HTML code and embed it to his blog. These processes take only an approximation of less than a minute, primarily depending on the preferences of the user. In the current version of Chatwing's free shout box, users can create unlimited widgets for various websites and blogs.
Facebook and Google+ users were among the first ones who have used the Chatwing chat tool for communication purposes. The Chatwing team, right from the start, has seen the marginal effects of expansion in blogging sites. Additionally, Chatwing's developers were always intent on providing straightforward communication experience for all of their users. In the coming months, the Chatwing team is expecting for large influx of users from different online sectors.
To keep the Chatwing chatbox as reliable as ever, the Chatwing team will continue reaching out to blogging communities, forums, message boards, and different websites. In this way, the team will be able to gather information about the global preferences of bloggers and web surfers. Basically, as long as blogging is a mainstream form of information delivery, Chatwing will always be ready to help people reach their online goals.
About Chatwing.com
Chatwing.com specializes in the new field of website chat. Over years, the Chatwing team has introduced live chat box for hundreds and thousands of blogs. The Chatwing application bridges people from many parts of the world, creating global synergy through the Internet. The shout box can be installed in just seconds, and it can be used for varying purposes such as leisure and Internet marketing. It also allows a user to customize the size, color, and name of the widget. Chatwing is 100% free for everyone.