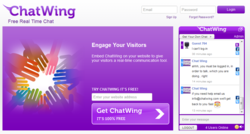 Dallas, TX (PRWEB) July 29, 2012
Due to the advent of the Internet, people will now be able to watch important events online, rather than stay on television for hours. This fact is reflected by the amount of websites created for the sole purpose of live event streaming. Chatwing, a company dedicated to the betterment of web communication, has recently launched a chat widget that can make live streaming websites more visible and active than ever. This chat tool has been introduced in prominent blogging platforms such as Wordpress and Typepad.
Chatwing's developers know the importance of live event streaming for many people. Since information travels fast and almost everyone is busy attending to certain matters, websites are now considered more reliable than television. However, the competition for live event streaming is tough, especially when big events tend to occur. Chatwing offers a streak of visibility with the help of its free chat box. Now, visitors of an event streaming website will be able to communicate with each other. The Chatwing team has observed that event streaming visitors talk about their opinions and rants about a certain event.
Few months ago, the Chatwing team has expanded in blogging communities with relative ease. This is because of Chatwing's known features like social media integration and full conversation control. In the coming months, Chatwing developers are planning to upgrade the 600-user capacity to 1000. With this upgrade, many people will be able to utilize the efficiency of the Chatwing free shout box.
Chatwing team's dedication to create a reliable web chat box can be measured by its rigorous expansions, platform upgrades, and continuous research. The Chatwing team also operates with a clear-cut strategy to introduce the free chatbox to prominent online sectors, other than live streaming websites. Chatwing is also targeting to expand in sports chat, finance chat, gaming forums, social networking site creators, technology websites, developer blogs, and even online dating sites. This simply proves Chatwing's high rate of versatility across the Internet.
About Chatwing.com
Chatwing.com specializes in the new field of website chat. Over years, the Chatwing team has introduced live chatbox for hundreds and thousands of blogs. The Chatwing application bridges people from many parts of the world, creating global synergy through the Internet. The shout box can be installed in just seconds, and it can be used for varying purposes such as leisure and Internet marketing. It also allows a user to customize the size, color, and name of the widget. Chatwing is 100% free for everyone.