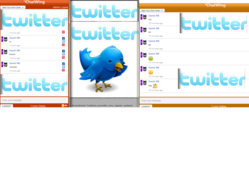 San Francisco, CA (PRWEB) July 29, 2012
Twitter microblogging is now considered as common as liking Facebook pages. This is based on the numbers of people who are posting regular updates using Twitter. Due to the importance of this fact, the Chatwing chat tool has recently launched a global chat box that can help Twitter users find more friends and followers. This chat tool excels in providing blog and website communication experience for everyone. Additionally, the Chatwing application can be installed with relative ease.
The Chatwing team has noted that thousands of people in the Internet are utilizing the connective power of Twitter. In turn, these people become Twitter microbloggers, intent on finding new followers. Chatwing's free chat box provides communication leverage for these people. In a single Chatwing chatroom, guests and visitors can talk about a myriad of topics. Bloggers can also use the Chatwing application to interact with their blog visitors. In a way, Chatwing chatroom becomes an immediate marketing tool that can be used for professional purposes.
Microblogging has been famous in different sectors of the Internet. This is because of the fact that microblogging is easy, and everyone can express their opinions in just few words or sentences. Chatwing's developers also believe that it pays to have lots of friends in Twitter—there are more avenues for communication and more things to talk about. Visitors of Chatwing's free shoutbox can also discuss timely topics such as movies, Hollywood gossips, current events, movie reviews, gaming, gadget tips, general tips, and famous Internet memes.
The Chatwing development team will always pursue excellence—this can only be achieved by introducing various upgrades to the chatbox. The upgrades will ensure that users are always satisfied and enticed to a certain degree. Additionally, Chatwing's free chatbox will always have frequent maintenance checks to deal with occasional technical glitches. The developers are also keen to suggestions, proven by their recent inquiries in different blogging communities.
About Chatwing.com
Chatwing.com has developed live chat software for websites and blogs. It caters to different online communities due to its high rate of connectivity. Everyone can create a customizable live chat widget in 1 minute or less. Users have the ability to customize the size, color, and fonts of the chat product. The ability to chat via social media accounts such as Facebook and Twitter enable Chatwing to offer a personal and unique real-time experience to all sites. Chatwing is 100% free and very easy to use.