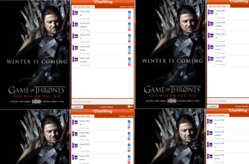 Cambridge, MA (PRWEB) July 30, 2012
Cambridge, MA – The Game of Thrones series, under HBO productions, is now gathering a lot of buzz because of its complex plot, gut-wrenching episodes, and lively characters. The series has now generated a lot of blogs and review websites, according to global statistics. The Chatwing development team has realized the influx of web surfers discussing the series. This is the reason why the dev team has recently launched a global chat box that can help fans gain the proper stream of communication they need.
The Chatwing chat app may appear similar to other tools, but it is on a broader scale. Many bloggers have preferred the Chatwing free chat box over other applications because of its relative versatility. First, it can be installed to most blogs and websites because of it operates on a simple language. Second, it generates visibility for any blog or website. This has been possible because the free chatbox creates an entertaining web atmosphere where everyone can discuss their thoughts and opinions about certain topics. Also, installation of the Chatwing widget takes only a few seconds, depending on the customization preferences of the user.
As the long wait for Game of Thrones' third season has begun, more and more fans are eager to discuss the turning points in the series. Some fans were outraged, while a large percentage was hoping that the series remain true to the book. Developers of the Chatwing chat widget have also introduced the chat application to fans in various blogging communities.
The Chatwing development team has also expanded in different online sectors such as finance, sports, entrepreneurship, movies, and global history. This simply proves the versatility and effectiveness of the Chatwing free chat widget. To ensure that more people will be able to utilize the application's communication potential, the dev team will continue reaching out to more bloggers and web surfers. The dev team is also planning to visit forums and message boards.
About Chatwing.com
Chatwing.com has developed live chat software for websites and blogs. It caters to different online communities due to its high rate of connectivity. Everyone can create a customizable live chatbox feature in 1 minute or less. Users have the ability to customize the size, color, and fonts of the chat product. The ability to chat via social media accounts such as Facebook and Twitter enable Chatwing to offer a personal and unique real-time experience to all sites. Chatwing is 100% free and very easy to use.