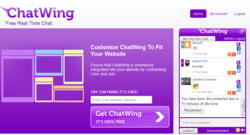 Dallas, TX (PRWEB) July 30, 2012
For all blogs and websites, online presence is the determiner of profits and advancement. Many professionals have believed that blogs and websites will only stay in the Internet as long as they have visitors. Based on this factual template, the Chatwing development team has released a universal chat widget meant to boost the visibility of thousands of blogs and websites. The Chatwing chat tool can also be installed in just seconds, and it also offers social media interaction with all of its users.
Thousands of Wordpress bloggers have benefited a lot from Chatwing's free shout box. These bloggers have come from various niches such as food, travel, hobbies, humor, human interest, and even controversial stuff. The Chatwing team has also noted that travel bloggers have used the Chatwing chat tool frequently—the chatroom became a bridge of communication from web surfers and people who are looking for travel information. Livejournal bloggers have also used Chatwing's free chat box for social media interaction. Because of this versatility, the Chatwing application has received thousands of signups per day.
The Chatwing chatroom can hold up to 1000 users in real time. These users can share links, updates, and important opinions about timely stuff. This is the reason why many online entrepreneurs have used the Chatwing chatbox as a professional solution. In a way, Chatwing can help boost any marketing campaign by a significant percentage. Chatwing also allows full conversation control for their users. If the user thinks that a message is detrimental to the popularity of his blog, he can delete it in one click. Apart from that, he can set word filter parameters.
Unlike other chat application developers, Chatwing fosters the premise of website chat. Researchers and developers of Chatwing are working round the clock to ensure that the free chat widget will deliver 100% efficiency to all blogs across the Internet. Adding to that, the Chatwing dev team is also expanding in social networking sites such as Facebook, Twitter, and Google+.
About Chatwing.com
Chatwing.com specializes in the new field of website chat. Over years, the Chatwing team has introduced live chat widget for hundreds and thousands of blogs. The Chatwing application bridges people from many parts of the world, creating global synergy through the Internet. The shout box can be installed in just seconds, and it can be used for varying purposes such as leisure and Internet marketing. It also allows a user to customize the size, color, and name of the widget. Chatwing is 100% free for everyone.