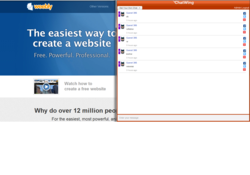 Houston, TX (PRWEB) July 31, 2012
Many people consider book reviews useful when it comes to picking up a good book to read. This fact is based on the rate people visit book review sites and blogs. To help book review bloggers reach their target audience, the Chatwing development team has recently launched a global chat box that is free and can be installed in just seconds. The application also comes with social media integration feature and a high customization rate for users.
Review bloggers can also use Chatwing's free shoutbox to generate visibility for their blogs. This is a strategic move, especially if a new book is out in the market. Normally, people will flock to review blogs in order to determine if a book is really worth their money and time. Review bloggers can use the Chatwing chatroom to offer certain details about the book, but not necessarily spoil the story. Other than that, review bloggers can also expand their social networks by sending Facebook and Twitter invites to guests and visitors.
Chatwing's free chat box is compatible to most blogs and websites. This fact has contributed to Chatwing's overall rank in the blogosphere. Before reaching out to the Weebly community, the Chatwing application has been introduced in different online communities such as those specializing in finance, personal tips, sports, current events, fashion, technology, trends, and online marketing. Installation of the Chatwing chatbox also takes only a few seconds, depending on the preferences of the user.
Chatwing is entirely dedicated into helping bloggers gain the proper web presence that they need. Along with that, Chatwing's developers also believe that book review bloggers will be able to help a lot of people foster their reading interests. To do this, Chatwing's free chatbox must be introduced to different online sectors where reading is highly prominent. The way is long, yet Chatwing will never cease with its upgrades, developments, and expansions.
About Chatwing.com
Chatwing.com has developed live chat software for websites and blogs. It caters to different online communities due to its high rate of connectivity. Everyone can create a customizable live chat widget in 1 minute or less. Users have the ability to customize the size, color, and fonts of the chat product. The ability to chat via social media accounts such as Facebook and Twitter enable Chatwing to offer a personal and unique real-time experience to all sites. Chatwing is 100% free and very easy to use.