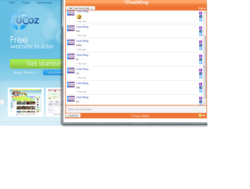 Miami, FL (PRWEB) July 31, 2012
The Chatwing Development Team has been speculating in different online communities lately. Before staking out in other niches, Chatwing's researchers have found out that food critiques are growing in the Ucoz community. To further help these critiques gain online presence, Chatwing has launched a universal chat widget that is adaptable to most blogs and websites. The Chatwing application also utilizes the power of social media such as Facebook and Twitter.
Food blogging has been one of the most prominent niches in the blogosphere today, based on the numbers of food blogs being created. Usually, food bloggers discuss great tasting food, exotic delicacies, and fine restaurants to visit. Chatwing's free chat box can provide social interaction between food bloggers and their visitors. To entice blog visitors, Chatwing features various types of emoticons and avatar displays. Chatwing's developers have also noticed that visitors often post links to their own blogs and websites. In a way, the Chatwing application can boost any blog marketing campaign.
People from other online communities have also started using Chatwing's free chatbox. This simply emphasizes the versatility of Chatwing's chat application. The Chatwing dev team projects that the influx of users will grow in the following months, and more features must be introduced. These backend features will decrease the rate of technical glitches by more than 80%, enticing more people to use Chatwing's multi-purpose chat box. Lately, some bloggers have also praised the easy installation mechanism of Chatwing's shoutbox.
Chatwing is also planning to expand in other blogging niches. In this way, many bloggers will be able to utilize the efficiency of a free shoutbox. Moreover, these bloggers will reach out to hundreds and thousands of people within the least possible time. Chatwing's developers are also planning to upgrade the chat box's user capacity to 1000. This ensures that more people will be able to talk about timely and interesting topics. In the following months, it has been estimated that more niches will be explored in the Ucoz community alone.
About Chatwing.com
Chatwing.com has developed live chat software for websites and blogs. It caters to different online communities due to its high rate of connectivity. Everyone can create a customizable live chatbox feature in 1 minute or less. Users have the ability to customize the size, color, and fonts of the chat product. The ability to chat via social media accounts such as Facebook and Twitter enable Chatwing to offer a personal and unique real-time experience to all sites. Chatwing is 100% free and very easy to use.