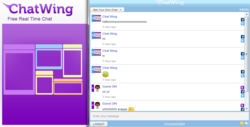 New York, NY (PRWEB) July 31, 2012
Game bloggers in Wordpress will now be able to reach more people and share their hot tips with the help of Chatwing's latest and innovative chat box. The Chatwing team has decided to expand in the Wordpress community because of its sole potential compared to other free-hosting blog sites. Additionally, Wordpress is highly supportive of widgets, allowing users to integrate the Chatwing application with no fuss. Chatwing's chat tool also empowers social media interaction.
The latest version of Chatwing's free chat box is geared to accommodate up to 600 users in real time. However, the team is planning to upgrade it to 1000. In this way, many people will be able to use the communication leverage offered by Chatwing. Game bloggers can also use Chatwing's social media integration feature to expand their social networks. This is useful for Facebook gamers who want to find more 'neighbors' for their games. It has been proven that a Facebook game is better with the help of common friends and acquaintances.
According to some game bloggers in Wordpress, Chatwing's free shout box has helped them connect to their visitors at a better rate. Instead of waiting for blog comments which may take a day or two, the visitors can gather information in real time. This saves a lot of time and effort on the side of the visitors. Additionally, Chatwing's chat application has helped Wordpress bloggers gather visibility for their blogs. The chat app does this by transforming the blog into an active 'lounge' where visitors can share their thoughts about a certain topic or niche. Many bloggers have also commended the easy installation mechanism of the Chatwing chatbox. The average installation time for a Chatwing application takes only few seconds.
According to the research of the Chatwing team, game bloggers in Wordpress who have used the free chatbox were able to help many gamers at a regular rate. The Chatwing dev team is planning to continue the same strategy in order to help bloggers from other prominent online communities.
About Chatwing.com
Chatwing.com has developed live chat software for websites and blogs. It caters to different online communities due to its high rate of connectivity. Everyone can create a customizable live chat widget in 1 minute or less. Users have the ability to customize the size, color, and fonts of the chat product. The ability to chat via social media accounts such as Facebook and Twitter enable Chatwing to offer a personal and unique real-time experience to all sites. Chatwing is 100% free and very easy to use.