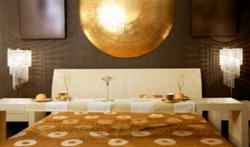 Resourceful furnishing websites have made residential interior design the new black of social media.
San Francisco, CA (PRWEB) July 30, 2012
With the growing presence of opulent home décor e-zines and blogs that sparkle with home decorating expertise, a natural opening appears for online furnishing resources. Easy access to clever décor ideas, outstanding interior decorator portfolios, and resourceful furnishing websites has made residential interior design the new black of social media. There is nothing better than to find the iconic Corbusier inspired chaise lounge for sale online at a furnishing website such as KindaChic.com in the last hours of a schedule for a modern living room design. Pair this chaise lounge with KindaChic's Valentino Chair and Ottoman and this design plan rapidly takes shape. KindaChic's selection of home décor lamps, vases, accent chairs and occasional tables are also available to provide the finishing details for this modern family or living room style.
These home décor e-zines and blogs provide design expertise in every desired style. Gorgeous photos show off French, French country, English country, Asian, Mediterranean, shabby chic, luxurious, traditional, and unique contemporary ideas. Next up are décor and furnishing resources such as KindaChic, the link to these styles through their décor accessories. European Chic, Super Hip, Modernism or Traditional styles are now easy to like and create with today's unique design resources.