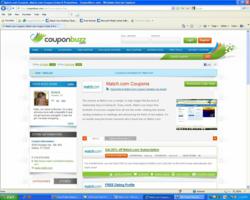 Match.com is doing some exciting things to shake up the way in which online dating has traditionally worked.
Houston, TX (PRWEB) July 30, 2012
This summer Match.com launched a new program they call 'The Stir,' local mixers and events that take place in real-time versus the virtual landscape. CouponBuzz.com is hosting several Match.com coupons this month, including up to 20% off a membership to the popular online dating and relationship website. Now is a great time to get involved, especially for individuals who prefer a little face time when appraising dating partners.
With their 'Stir' events, Match.com is focusing on inviting their virtual subscribership to attend actual, physical events they are hosting in cities around the nation, introducing in-person mixing and mingling to their virtual crowd. Instead of just online chatting and emailing, Match.com is now beginning to provide a whole new level of service beyond what is usual for online dating websites. The concept of providing sponsored singles-only events open to their subscribership might just revolutionize the way in which virtual dating services understand their business model.
"We love having Match.com coupons available for our site visitors," enthused Justin Bowen, a spokesperson for CouponBuzz.com. "It helps us establish our credentials as a helpful site for every area of a consumer's interests. As one of the premier online dating websites, Match.com is doing some exciting things to shake up the way in which online dating has traditionally worked. Their 'Stir' events are a fascinating example of one direction in which we might see some definite future trends for matchmaking websites."
Essentially, 'The Stir' invites individuals who are part of Match.com's online database to attend events like a Tequila tasting, a cooking class, bowling or a Happy Hour, all things that a lot of singles are familiar with doing as part of their daily lives. However, there is an important distinction between these events and others they may have attended in the past. The big draw is obvious, and such a powerful plus we Match.com's 'Stir' events have the potential to become all the rage. Everyone there is single.
Not only single, but single and looking to meet someone. No more awkward hitting on people who turn out to be in a serious relationship. No more buying endless rounds of drinks for women who turn out to be "really just focusing on their career right now." The list of reasons singles dislike attending actual live events can be fairly lengthy. However, the 'Stir' events envisioned by Match.com are a marvelous way to enable people to make connections in powerful, personal interactions, while still doing a lot of the pre-screening virtual dating allows.
Match.com's 'Stir' events also provide a safe, entertaining forum in which to arrange a first face-to-face meeting with an individual that a user might have already met online. The first meeting is always awkward, but having a happy crowd of other singles present can do a great deal to ease the transition from virtual to real - an inevitable, essential step to progressing a relationship. Expect to see a lot of Match.com's first dates happening at 'Stir' events in the future! To find Match.com coupons for reduced price website membership and free membership trials, visit the dedicated Match.com coupon section at CouponBuzz.com, here http://couponbuzz.com/match.com-coupons.html.