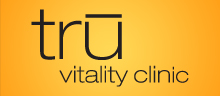 Redefining Authentic Beauty is not just our motto, it is our mission.
Toronto, Ontario (PRWEB) July 31, 2012
Tru Vitality Clinic – Yorkville's Freshest Face
Grand Opening August 1 & 2, 2012
Tru Vitality Clinic ("Tru") will be holding its Grand Opening Wednesday August 1st & Thursday August 2nd ,2012 from 6:30pm-9:30pm at 70 Yorkville Ave in the heart of Yorkville, Toronto, Ontario.
Tru is a uniquely original medical spa in the health & beauty services industry choosing a non-conformist approach to their services and offerings. Tru encourages women to appreciate their own beauty and focus on anti-aging from the inside out, offering services such as Medical Laser Treatments, Skin Replenishing Treatments, as well as an array of Vitality Workshops & Life Coaching. Redefining Authentic Beauty is not just their motto, it is their mission.
"Women can get laser treatments and facials just about anywhere but what I want to create is a community of women who celebrate authentic beauty, empower each other, and endeavor to live rich, vibrant lives." says Cate Moore, Owner and Creator of Tru Vitality Clinic. Cate has 15 successful years in the medical industry and she is more impressive in person as she is on paper. She believes her success with Tru in Yorkville will not be borne out of past career experiences but rather out of the wealth of inspiration provided by the vibrant women that surround her every day. The type of women who have the learned the power created by having the courage to accept and embrace the woman in the mirror. Dynamic, powerful, inspiring. Like the community of incredible women she is growing around her, Catherine is Tru, in every way!
Guests arriving at the Star Studded gala Grand Opening can expect great live music, a charity art auction, the best of Niagara's stunning wines, and mouth watering hors d'oeuvres. Offered exclusively to guests during the Grand Opening Events, Tru will be providing a one of a kind "Tru Original" membership Card. This card will entitle the bearer to discounts on their laser treatments for a lifetime. In addition, Tru will give away a variety of gift baskets, skin care product samples, the stunning wines from Niagara sampled on the 1st & 2nd, and a fantastic Niagara Getaway package.
For more information please contact Catherine Moore at (905) 401-8401, @TRU_Vitality, or via e-mail at cate(at)truvitalityclinic(dot)com. Visit the website at http://www.truvitalityclinic.com for more details.
Don't miss the Grand Opening Event of the year at Yorkville's Freshest Face. TRU Vitality Clinic - Redefining Authentic Beauty.