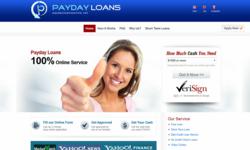 The form takes only 3 minutes to complete and the money can be in a borrower's checking account within sixty minutes
(PRWEB) July 30, 2012
PaydayLoansOnline.net announces its new cash advance matching service with a super-fast review-to-approval time and greater base of partnered lenders. Due to popularity with customers, the service has added to its lender relationship headcount and plans to make this increase a recurrent system improvement.
A spokesperson for the PaydayLoansOnline.net service made the announcement.
"PaydayLoansOnline is delighted to have achieved the impossible – a wider than ever grid of reliable and competitive short term lenders who can provide some of the fastest quick loans available on the internet. Utilizing direct payment technology and our fast, short and free application system, these lenders have all of the information they need in order to approve and pay out that much-needed cash in under an hour. As the service has started off with great popularity, we built more relationships with the best lenders in order to make sure we meet and exceed customer's expectations and demands."
The spokesperson continued, "We knew that our service was fast, efficient and simple. But it's even better now that there are even more partnered lenders connected to our live application form. When a visitor to PaydayLoansOnline wants a cash advance online quickly, with no credit check and no annoying questions, we feel confident that there is no better service than ours. We have a large affiliate networks of short term lenders which means great chances of approval and better variations of interest rates from lender to lender. The form takes only 3 minutes to complete and the money can be in a borrower's checking account within sixty minutes."
The spokesperson shared more information regarding the decision take customer demand into consideration when expanding the service's extension to more specialist payday loan lenders.
"PaydayLoansOnline is committed to always staying three steps ahead of our competitors. Customers are sophisticated in that they know what they want and when they want it. If we stay in step with them, we ensure we are delivering their demands appropriately. Their requirements are clear and we listen to them to deliver consistently. We do this by never requiring time-sucking, lengthy admin such as credit checks or long forms. We also make sure that our circle of network lenders is greater than the other aggregators. Finally, we commit to keeping things simple – we believe the search for ways to make the month is hard and stressful enough, so we want to ease the struggle."
"With a commitment to helping our customers find quick solutions from the best lenders to their short term cash flow problems, we can make sure that we cover all of their needs."
The spokesperson concluded by hinting at PaydayLoansOnline's future plans.
"We plan to continue improving our quick cash matching service through researching and building in many more excellent lenders, reviewing our application process and pushing for greater choice for our customers."
U.S. resident citizens over the age of 18 and in employment can apply here for short term cash with a one hour turnaround time: http://www.PaydayLoansOnline.net