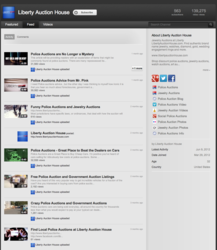 We have over 35,000 Facebook Likes, and 68,000 twitter followers. Compare that to competing websites that have very little social activity
Chicago, Illinois (PRWEB) July 29, 2012
LibertyAuctionHouse.com, a police auction and government auction database site, has seen an explosion of viral activity on Facebook, Twitter, and G Plus since it switched to a free membership model.
"We are breaking records everyday with this new free membership model" Says Michael Strom, CEO of Liberty Auction House. "We have over 35,000 Facebook Likes, and 68,000 twitter followers. Compare that to competing websites that have very little social activity. People don't want pay for something they can get for free in their local newspaper anymore."
LibertyAuctionHouse.com has also seen success in the shape of viral video views. LibertyAuctionHouse.com has created several funny films to draw attention toward their products with views totaling over 139,000 on YouTube .
The Internet is contagious with word-of-mouth and email-forwarded motion picture clips accessible via computers. The more these viral videos, as they have come to be known, are discussed among friends, the wider the viewing popularity spreads. The selections listed are only 10 slivers off the tip of the funny iceberg, but here at About Humor, they are among the favorites of our readers -- classics to watch over and over again.