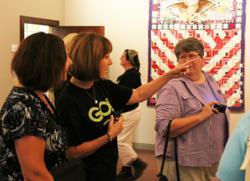 The exhibit includes Alex's Pomegranates and Grape Escape displays that inspired the GO!® Pomegranate and GO!® Grapes of Wrath die designs.
Omaha, NE (PRWEB) July 30, 2012
AccuQuilt, international distributor of fabric cutting solutions for quilting and fabric crafts, proudly announces Alex Anderson's 'Through the Years' quilt collection as the first-ever exhibit at the new AccuQuilt Gallery. The exhibit features 12 of Alex Anderson's quilts that she has created through the last three decades. Two of these quilts include her Pomegranate and Grape Escape displays that inspired the GO!® Pomegranates and GO!® Grapes of Wrath die designs. This exhibition runs from June 22 through July 31, 2012.
The AccuQuilt Gallery is located at the new AccuQuilt Omaha headquarters at 8843 S 137th Circle (near Cabela's®, off Interstate 80) where visitors can enjoy artwork from influential quilters in the industry. Quilts from both the AccuQuilt private collection and special curated quilt exhibits will be presented in revolving exhibits throughout the year.
"I am honored and thrilled to have my collection as the first exhibit at AccuQuilt's new headquarters. My quilts are exquisitely presented in an intimate museum-quality setting," says Anderson. She has visited her exhibit on two occasions since its opening on June 22, 2012. She was the guest of honor at the 3rd Annual Barn Quilt Unveiling Event where she helped celebrate the grand opening of AccuQuilt's new Omaha headquarters. In addition, Ricky Tims recently accompanied Anderson on a trip to AccuQuilt on July 16, 2012 where they starred in a series of videos promoting both the GO!® and Studio™ product lines.
Anderson and Tims are regular supporters and promoters of AccuQuilt's products, the AccuQuilt GO! Baby® Fabric Cutter, GO!® Fabric Cutter and Studio™ Fabric Cutter. The three cutters have been called the most revolutionary advancements in quilting since the rotary cutter.
The next featured exhibit at the AccuQuilt Gallery will showcase quilts curated by Linda Pumphrey, AccuQuilt GO!bal Sales Manager, from August 1 through October 15, 2012. The 'Quilts of Many Pieces' exhibit will include antique quilts from private collections and their modern counterparts cut and created by the AccuQuilt team with AccuQuilt die designs. Make plans to tour Linda's private quilt collection at AccuQuilt's Gallery by calling 888.258.7913 or emailing tours(at)accuquilt(dot)com for more information.
About Alex Anderson and Ricky Tims
Alex Anderson and Ricky Tims are the founding partners of TheQuiltShow.com and The Quilt Life magazine. TheQuiltShow.com is the world's first full-service interactive online video/web TV created just for quilters worldwide. As a result of The Quilt Show, Anderson and Tims have created The Quilt Life magazine which celebrates the lifestyle of today's quilt maker in a fresh and beautiful format.
Anderson continues to be one of the most sought after instructors and lecturers in the international quilting and sewing industry. She is the author of 30 books in four languages selling nearly a million copies worldwide. Her quilt and instruction tips have also appeared in numerous magazines. She is the National Spokesperson for Bernina of America, a promotional partner for AccuQuilt, as well as a designer of her own line of fabrics with P&B Textiles, and threads with Superior Threads. For 11 years, she served as host of 'Simply Quilts' on HGTV.
Tims is a quilting enthusiast and an award-winning quilter who has had his quilts displayed worldwide and is known for his contemporary quilts with traditional appeal. Tims was selected as one of "The Thirty Most Distinguished Quilters in the World". In 2008, Quiltmania named Ricky one of nine "Exceptional Men" in the quilting world. He is the author of 10 books (with over 100,000 copies sold). He is the founder of the often sold-out Ricky Tims Super Quilt Seminars touring throughout the United States. Ricky also designs his own line of fabrics and threads, and a promotional partner for AccuQuilt.
About AccuQuilt – Better Cuts Make Better Quilts®
Headquartered in Omaha, Neb., AccuQuilt offers quilters, fabric crafters and retailers a premiere line of fabric cutters, dies, quilting patterns and other quilt and fabric cutting solutions that help quilters quickly and accurately cut shapes for quilting and fabric crafts. AccuQuilt also offers quilters a wide variety of rich educational resources to enhance their quilting experiences. Cutting with AccuQuilt® cutters is a natural evolution of fabric cutting methods. "First scissors…then rotary…finally…AccuQuilt®" for fast, easy, accurate fabric cutting. Visit AccuQuilt online at http://www.accuquilt.com
# # #