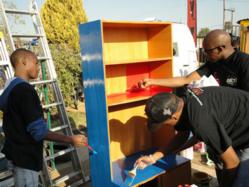 Milford, MI (PRWEB) July 31, 2012
JAM International dedicated nearly the entire South African based staff to work on projects during Mandela Day, amounting to 670 hours of work. Together with corporate and private partners they developed uplifting projects in the communities and local informal settlements where poverty is rife.
Lives were transformed in 6 South African pre-schools when Amalgamated Beverage Industries (ABI), the Soft Drinks division of SAB, bottlers and distributers of Coca Cola; as well as Marsh SA, along with several private donors, and the JAM staff spent the day working on six pre-school makeovers in Diepsloot (an informal settlement in the North of Johannesburg.) These makeovers ranged from midi to maxi and to the extreme. The team repaired holes in leaking roofs, patched up walls, painted, and provided educational materials. The makeovers included replacing existing shacks with sturdy, safe buildings and updating kitchen and toilet facilities, providing play equipment, towels, blankets, basins, educational toys, tables, chairs, micro gardens and more. These makeovers also included the sponsorship of JAM's nutritional intervention in these schools for a minimum of one year.
Mandela's request for 67 hours of time also included making blankets for children out of squares knitted by prisoners. Thirty staff members of Cummins South Africa (Pty) Ltd joined JAMSA staff at the JAM canteen to sew the squares together with everyone doing their part in a combined effort to give back to the community.
Sharing love and warmth comes easy to South Africans dedicated to their communities. Many companies have joined with JAMSA to help those in need like Cross Fire Management who partnered with JAMSA to distribute clothes, toys, party packs as well as feeding the children and spending time playing with them at the Brightness Child Care Centre in Diepsloot.
Green projects are currently being created by the Servest Group in partnership with JAMSA. Their collaboration will start a gardening and training project at Refilwe School, an informal settlement in Lanseria.
The Rivers Foundation spent their 67 minutes distributing blankets at Little Stars Day Care center in Diepsloot.
About JAM
Joint Aid Management (JAM) is a South African founded registered non-profit, Christian humanitarian relief and development organization with 25 years of experience in relief and sustainable development.
JAM's programs focus on nutritional feeding, school feeding, assistance to orphans and vulnerable children, the provision of water and sanitation, as well as skills development, community training on agricultural development, income generation projects and HIV/AIDS programming.
JAM strongly believes that without education, there can be no development. Effective education is only attained through the quality of schooling and most importantly, adequate nutrition, which allows a child to effectively focus, retain, and apply what is being learned. JAM currently assists more than 751,000 children through nutritional feeding programs, health and social welfare programs. JAM is currently operating in Angola, South Sudan, Mozambique, Rwanda, and South Africa.