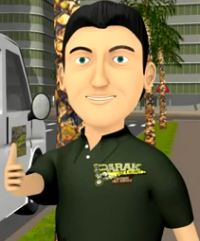 Service you Love Security you Trust!
Los Angeles, CA (PRWEB) July 31, 2012
In trying times, the American dream still lives on.
The American dream has been looking more grim and bleak since recession began. However, when compared to other countries around the world, we still live in a country that does still possess a bit of the American dream that rewards hard work.
Barak Ashkenazi is living that dream. Today, Barak Lock and Security is a Locksmith Los Angeles premiere company. That wasn't always the case for Barak. In fact, Barak Lock and Security has only been around since 2009.
It all started in 2003 when Barak made a decision to leave his family and friends in Israel and to come to the United States to pursue a better life. Barak chose to become a locksmith as his profession, and found a job at a locksmith company in Los Angeles which he worked for 6 years.
Barak believes in the American philosophy way of doing business by providing exceptional customer service. However, the company he worked for didn't share the same philosophy. In 2009, Barak was let go from the company for being too nice to the customers by giving exceptional customer service and discounts at times. Instead, the company he worked for just wanted Barak to always charge the max and spend as little time as possible with each customer and to move on to the next.
Out of a job, Barak made a life altering decision that he will tough it out and try to make it on his own. Barak was down to his last $80 that was gathered from his jar of coins in which he used to apply for his locksmith license.
Not having any experience in marketing, Barak self-tought himself with hand ons experience. He went on the internet and signed himself up in many directories and websites such as Yelp, Craigslist, etc. He walked from store to store to promote his business. He gave himself an edge by providing good prices with exceptional service in which started earning him repeat business. As business started growing, he expanded his marketing by leveraging his time and skills and hiring a web design and internet marketing company.
Two and a half years later Barak can now say he is starting to live the American dream. He went from being broke to now making over six figures a year income. Barak has hit other achievements and milestones. Barak Lock and Security is top rated on Yelp by earning more 5 stars reviews than his competition. Barak has also recently expanded his business operations by getting a second van and hiring his first employee.
Barak's next goals are to open a brick and mortar locksmith store that has its own unique twist that no other locksmith brick and mortar has. He is also looking to expand in having more vans and more employees in the near future. And to add the cherry on top, Barak has big aspirations by branding his name and creating his own Child Safety Products to come.
Located at 8721 Santa Monica Blvd, Los Angeles CA 90069. Barak lock and Security services all of Los Angeles for all residential , commercial, and auto locksmith needs by calling (323) 677-1530. Los Angeles includes inner cities such as West Hollywood , Santa Monica, Beverly Hills.