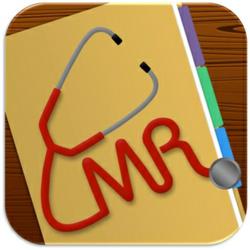 Technology has evolved to the point where digital devices can be used to improve physicians' clinical performance.
(PRWEB) July 30, 2012
MediRounds LLC today announced that their app, MediRounds, is now available for the iPad. This physician-designed medical rounding app serves as both a clinical tool and as an educational platform to improve the clinician's approach to medical rounding. With its intuitive design and contextual functionality, MediRounds makes it fast and easy for clinicians to track, access, maintain, and analyze data related to patient rounds.
MediRounds eliminates the need for handwritten rounding sheets by providing a user-friendly interface where clinicians can input key information collected during rounds as well as "Air Print" or email notes at the end of the day. The systems-based, color-coordinated format of the main screen enables fast input and easy scanning of patient information. MediRounds app allows clinicians to maintain patient lists, track "to-do's", view patient status, and quickly access historical information for that patient's stay.
In addition to supporting clinicians in daily activities, MediRounds also serves as a teaching platform with tutorials on key topics such as Critical Thinking in Medicine, Decision-Making on Rounds, Constructing the Presentation, and more. The data trending capability of the app helps clinicians ask the right questions and contextualize patient data (e.g., the five-day trend in the respiratory rate or serum creatinine).
"Technology has evolved to the point where digital devices can be used to improve physicians' clinical performance. MediRounds addresses the high cognitive workload and time pressure that clinicians face daily. Realizing the limitations of humans to retain and assimilate the large volume of data and information available in the care of patients, MediRounds is designed to place this data and information into clinical context and display it in a way that clinicians think. The end result will be enhanced critical thinking during the patient encounter." said David Epstein, MD, Founder & President of MediRounds, LLC. MediRounds complies with all HIPAA regulations and encryption guidelines. The app is 100% functional even in the absence of internet access, ensuring instantaneous and easy access to patient information.
MediRounds is now available for $29.99 in the United States and is priced accordingly in other regions. The company intends to release soon iPhone and iPod Touch versions of the app. Please see http://www.medirounds.com for more MediRounds information, including videos and screenshots. For additional questions or support, please contact support(at)medirounds(dot)com.
Press Kit: http://www.medirounds.com/pressroom.html
MediRounds LLC was founded in 2011 and is focused on bringing innovative, mobile solutions to the clinical and clinical teaching environment. MediRounds LLC works in partnership with Niles Technology Group, a development firm focused on the mobile app industry.