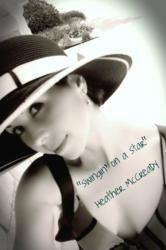 Fort Worth, TX (PRWEB) July 31, 2012
Creative folk artist and suicide prevention advocate, singer-songwriter Heather McCready, is concerned abut the rise in depression, violence and suicide rates in America, especially among teens. Driven by that concern she is writing a series of articles on the subject and will be releasing a very different kind of CD than what is usual for her. Her 5th CD, "Bluebirdy", will not be filled with the songwriter's own songs, rather a collection of her personal favorite's from generations passed that fulfilled two important criteria. She states, "the songs had to be happy and they had to great!". Of course, Heather McCready and her teammate in music, virtuoso musician, arranger-producer Milo Deering, have never produced a CD that didn't include their own distinctive style of uniquely peaceful with creative musical twist and turns, and "Bluebirdy" promises to be no less.
Below is the second article written by Heather McCready on the rise of depression, the evolution of music, and her role as a parent and musical artist in the year 2012. (Click here to read the first in the series, "Music is Food for the Soul. So, Why are we Poisoning Ourselves?" )
"Did you know that suicide is the third leading cause of death among teens? In an article by Maureen Finn, Dr. Mustaq Khan says, "It is a fact that depression is increasing," noting that nobody really knows why... We really need to identify what's causing it and work directly on the cause,... we really need to look at what we're doing in our daily lives."
"And I say, where better to start than looking at the one thing that nearly all teens love most- music. It has been my observation, that depressing and angry songs aren't just out there- they're everywhere! But what is making them attractive and more prevalent? I spoke with teens who said they felt angry and sad listening to music like this but the music served as an outlet for their emotions. They related to it. So, are more people depressed now than ever and therefore writing more depressing songs? Or are people listening to these depressing songs therefore contributing to their depression, or both? I say both! Writers are more depressed and so are their listeners who are readily identifying with them. Music feeds the soul. It influences us. It affects us. Why feed ourselves a diet of sadness when we are already grieving? I think it's time for comfort food, for lack of a better analogy. It's imperative that parents take note of what their kids are feeding their soul as much as what they are feeding their bodies. Bad choices in both can kill them. And as it turns out, depression is now one of the most deadly. Why should we not be as afraid, if not more so, of sounds that kill the spirit and fuel the depression that is robbing our kids and adults of their lives as we are of any other threat? This is a reality we can control. I, for one, want to see a change and hope that people will join with me in the awareness, detection and treatment of depression and the hope of a more cheerful tune being sung tomorrow!"
Heather's fundraising effort is for the benefit of Mental Health America of Greater Tarrant County a non-profit organization in Fort Worth, Texas connecting people in need with those who can help. Heather serves on the board.
Download "Swingin' on a Star" by clicking HERE!