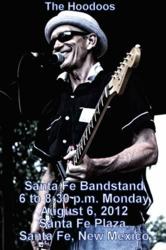 (PRWEB) July 29, 2012
Santa Fe Bandstand is a free summer music festival on the Santa Fe Plaza, produced by Outside In Productions and a crew that strives to present the city with a wide range of performers, who represent the diversity and wealth of musical talent in this region. Performances take place Monday to Thursday, through August 16, 2012. All shows are free and open to the public. During evening performances, the first act begins around 6 p.m., the headlining act performs at approximately 7:30 p.m.. Santa Fe Bandstand is delivering the ever-popular recently departed Santa Fe resident band, The Hoodoos and Imperial Rooster to the stage from 6 to 8:30 p.m., Monday, Aug. 6, 2012. Both this event and the entire Santa Fe Bandstand summer line-up of entertainment appear on the event calendar on SantaFe.com.
Billy D and the Hoodoos —Here's The Latest: Billy's newest CD/DVD Somethin's Wrong has really taken off. The 12 videos from the DVD are combining for over 2,000 views per day on YouTube and online sales and downloads in the US and Europe have increased dramatically as a result. Soon after moving to Portland,OR, a city with a true "Blues Community" in 2010 (just after the release of Somethin's Wrong) Billy D and the Hoodoos were awarded "Best New Act" by the Cascade Blues Association and that same weekend opened for the great Robert Cray at The University of Missouri. In October 2011, one of Billy's tunes Bye Now from his new acoustic CD was licensed by the new hit TV series Hart of Dixie.
Billy D's life experience has given him the strength to write the Blues with a passion that only comes from living it. He is heavily influenced by Chicago's blues, but Billy isn't just a typical blues man. His writing and musical talents create a "Backbeat Roots" style that goes way past traditional blues music. His songs reflect the tough lessons of his past and show his love for Mother Blues and her first-born, Rock & Roll.
Born on the south side of Chicago, Billy grew up surrounded by the Blues and early Rock & Roll — a powerful attraction. He started playing professionally at teen dances and parties at the age of fourteen, and by eighteen he was sneaking into the blues clubs of Chicago to hear greats like Muddy Waters, Junior Wells, Buddy Guy, and James Cotton. Over the next ten years, Billy played for Junior Wells, Big Time Sarah, and Detroit Junior.
By the mid '70s he had formed his first band, Skid City Blues Band, as singer, guitarist, and songwriter. After years of touring, Billy moved to Los Angeles in 1988, studying with Blues great Tony Matthews, guitarist for Little Richard and Ray Charles, and spending half of the next year playing behind Don "Sugar Cane" Harris, perhaps the worlds greatest blues violinist.
In the mid '90s Billy moved to Santa Fe, New Mexico and began playing his original songs at local clubs and concerts. Within the year, Billy D and the Hoodoos were formed. In 2003, KTAO voted She's The One the number one song by a regional artist. KTAO hosts the Annual Solar Fest in New Mexico where that year Billy and the band opened for Los Lonely Boys and Robert Cray.
After releasing his second CD, Rokdablu!, and several more successful years in New Mexico, Billy left the Southwest for Oregon in early 2010. His newest CD, Somethin's Wrong , has been embraced by the Portland music community and received outstanding reviews.
The Imperial Rooster play an out there mix of folk, blues, country, & rock and roll that can only be described as GONZO ROOTS MUSIC. Influenced by Beer, Sterno, Johnny Cash, Nick Cave, Beer, Screamin Jay Hawkins, Tom Waits and Captain Beefheart.
About SantaFe.com:
SantaFe.com provides locals and visitors to Santa Fe alike the most current interactive platform for events, music, arts, business, dining and lifestyle. SantaFe.com is a division of Hutton Broadcasting, located at 2502 C. Camino Entrada, Santa Fe, NM 87507
Contact Information:
Scott Hutton
SantaFe.com / Hutton Broadcasting
http://www.santafe.com
(505) 471-1067 (Media inquiries only, please)