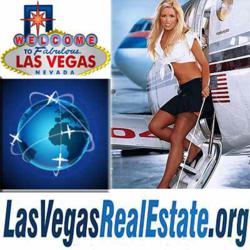 Las Vegas Real Estate Rebounds as International Brand with Estimated 40-Million Yearly Visitors
Las Vegas, NV (PRWEB) July 31, 2012
Las Vegas real estate has made a drastic rebound as buyers and investors have taken advantage of the lowest prices in 20-years. LasVegasRealEstate.org cites over 50% of all sales are all-cash buyers competing for remaining Las Vegas foreclosures and short sales. McCarran Airport has recently opened a new international terminal in June that is exposing Las Vegas to more opportunist that are finding homes for sale in Las Vegas may be more affordable and a better investment than their own country. Numbeo.com cost-of-living index to include rent has Las Vegas neck-in-neck with global get-aways such as Portuagal and Costa Rica.
Ashley McCormick of Realty One, Nevada's #1 Las Vegas real estate company, says foreign investors are doing their research and finding Vegas to be a global brand that is undervalued. McCarren airport is on track to have a record breaking year of over 40-million passengers with a notable increase over last years foreign traffic. CNNMoney, MarkeyWatch and Inman News have all ranked Las Vegas real estate in top 10 cities to invest in. Trulia price-to-rent ratio research confirmed by LasVegasRealEstate.org places Las Vegas homes for sale as #1 in America.
Terminal 3 opened in June 2012 and is making Las Vegas more accessible to international travelers as it has become one of the most affordable hubs in the USA. Panama City-based Copa Airlines, marked its first flight ever into Las Vegas at the grand opening signifying a huge connection with the large ex-patriot market. It is estimated that almost 2 million Americans have taken up residency in Panama, Mexico, Belize and Ecuador since the recession. McCormick says buyers and investors are excited about the Las Vegas opportunity and surprised at what their money can by with the median price on Las Vegas condos for sale at $60K. McCormick notes that out-of-state clients visiting for the first time compare the lifestyle Vegas offers for the money and are overly impressed by the affluent amenities .
McCormick also cites the increases in offers being written site-unseen on Las Vegas high rise condos for sale by investors who live out-of-state or country but familiar with the area from previous visits. Last year 1 out of ten residential sales where to foreign buyers with this year leaning towards 2 out of 10. Price of Las Vegas homes are currently the leading drive behind buyers and investors averaging at $128K for a 3-bedroom. McCormick has established a toll free number at 1-888-920-2292 to meet the demand of site-unseen investors. Las Vegas homes for sale are searchable online with advanced map search and images at http:http://www.LasVegasRealEstate.org