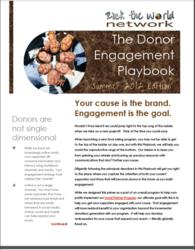 There has to be a level of comfort before someone will open their heart – and their checkbook to your cause
Tampa, FL (PRWEB) July 31, 2012
In the face of reduced donations, non-profit organizations worldwide have a common goal — attracting new donors and engaging them in supporting their cause.
With its release of the Donor Engagement Playbook, the Rock the World Network is providing insight into expanding an organization's reach both online and in real life.
Over the last decade, the introduction of social media has made it easier for these organizations to spread the word online, to increase support. However, according to Yankelovich Consumer Research, we are bombarded with over 5000 advertising messages per day. Whether delivered online or through traditional media channels, some of these messages are relevant and welcomed, while most of them are simply seen as noise, or worse, as spam.
The Donor Engagement Playbook outlines how to break through the clutter and maximize a non-profit organization's reach, moving up the Donor Engagement Ladder™.
Non-profits bring communities and people with shared beliefs together to accomplish a common goal. With increased support, these organizations stand to make a significant difference and help their chosen causes. Rock the World's complementary Donor Engagement Playbook outlines the steps that an organization can take to improve engagement across channels.
Noted multi-channel engagement expert, Chicke Fitzgerald, is the author of the complementary Donor Engagement Playbook. In it she describes the importance of first understanding your reach. "In a multi-channel world, the size of your donor list is no longer the sole predictor of your reach. It is however a starting point in determining the number of people in your current universe and it is the foundation for what we call the 'Real Life' side of the equation". Fitzgerald is the co-founder and CEO of the Rock the World Network.
The white paper is available by registering for the complementary download by clicking HERE or entering the following link directly into your browser: http://www.tinyurl.com/donorengagement
About Rock the World Network
The Rock the World Network provides co-branded and private label travel websites to non-profit organizations as an innovative way to augment fund raising. The flagship brand is http://www.TravelingtoGive.com, coupled with our Click | Travel | Give widget, which can be used on web sites, in email campaigns and in social media.
The company was co-founded by Chicke Fitzgerald and Diane Sackett. For more information, see http://www.rocktheworldnetwork.com.