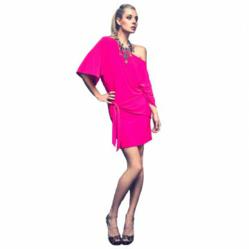 Brightening up these basic Fall colors are a spring-shade of Bright Chartreuse, a vibrant, floral Pink Flambé.
Boca Raton, FL (PRWEB) July 31, 2012
The shades predicted by Pantone will be replicated and incorporated into every major designer's collection and every high street look-book. In addition to the traditional dark and neutral tones the consumers have long associated with Autumn, a cocktail of yellow-green, bright pink, and orange hues have been tossed into the mix.
Leatrice Eiseman, the Executive Director of the Pantone Color Institute praised the vibrant new palette: "By playing to consumers' practical side with versatile neutrals, and boosting their confidence with bold, spirited hues, this skillfully balanced palette has something for everyone."
Olympian Blue, an appropriately named hue in light of the Summer olympics is one of the colors that everyone is talking about and is sure to be seen in both the Fall and Winter collections. Worn with a mellow, sweet Honey Gold, the mature tones of the conservative blue will play well with the muted metal color.
Dark tones of Titanium and French Roast are expected to be utilized in full force, and will provide a welcome respite from the blacks and woolen grays that are typical of Autumn. The plush, coffee inspired French Roast is a special treat,and will be well received as a choice hue for clothing, accessories and fashion jewelry. Brightening up these basic Fall colors are a spring-shade of Bright Chartreuse, a vibrant, floral Pink Flambé - as seen in Abi Ferrin designs, and a deliciously jewel-toned shade of orange, called Tangerine Tango.
Muted, feminine shades are also on the menu for Fall 2012. Cooling, soothing tones are just what the doctor ordered as the summer days are on the wane. Ultramarine Green has a hint of the mountainside, recalling the soft grass of an Oregon campsite. Rhapsody is a divine mix of lush purple and gray, and is a popular choice for designer Nicole Miller in her Fall 2012 line. Finally, a pleasure in pink, Rose Smoke; a soft, dusky color which will feature in Max and Lubov Azria's BCBG. This romantic, sensual tone will likely be seen on women well into next Spring.
This article was written by Beth Bennett. Beth is a Senior Fashion Editor and Stylist for GalleryAtlantic.com.
###