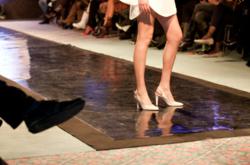 Katie's divorce and the masterful manner in which she handled it is a shining light onto anything that she does at this moment.
Houston, TX (PRWEB) July 30, 2012
Twice a year, lovers of authentic designer clothing and accessories are treated to the latest in couture style during New York Fashion Week. Today, Rodeo Drive Resale, premier seller of pre-owned luxury fashion, looks at Katie Holmes' fashion label, Holmes & Yang, and its sudden rise in popularity following her high-profile divorce from Tom Cruise.
Holmes & Yang, a women's designer fashion line, has seen its sales soar in recent weeks, according to a story by MTV UK. Even Holmes, who started the clothing line in 2008 alongside stylist and longtime friend Jeanne Yang, appears to have taken a renewed interest in the brand: Typically seen in her t-shirt and jean pairing, Holmes donned her brand's navy collared placket dress during a recent appearance on Project Runway.
According to reports, the 33-year-old star looks forward to having Holmes & Yang take part in New York Fashion Week, which returns to the Big Apple in September.
"Jeanne is known for her friendliness," an inside source told UK magazine Heat. "Jeanne has children too, and Katie is looking forward to her and Suri spending time with them."
Holmes is not the only recognizable name making this year's list of Fashion Week freshman: Also making its debut is the clothing line 466/64 Fashion, inspired by the life of political figure Nelson Mandela. The line, slated to hit U.S. department stores next spring, is being touted as the first global fashion brand to originate in South Africa.
Of course, many Fashion Week favorites are likely to return to the runway in September including popular labels Michael Kors, Marc Jacobs and influential fashion house St. John Knits.
"We're a brand on the move," St. John Knits chief executive officer Glenn McMahon told WWD in a 2011 interview. The brand has been the subject of criticism over its dramatic shift in design; a shift, McMahon insists is designed to capture the attention of younger consumers. "We really believe that our future success will be in our ability to capture the daughters of our current customer."
As for Holmes, who is likely pleased with the sales surge of her high-end brand, style experts predict her luxury clothing line will be a definite show-stealer at the semiannual event...
"Every editor will be at the spring 2013 Holmes & Yang showing this September," David Zyla, an Emmy Award-winning stylist, told FOX411's Pop Tarts column. According to Zyla, her recent split from Cruise has amplified consumer interest in her brand. "Katie's divorce and the masterful manner in which she handled it is a shining light onto anything that she does at this moment."
ABOUT RODEO DRIVE RESALE
With over a decade of experience, Rodeo Drive Resale specializes in buying, selling, and consignment of authentic couture fashions. Buy, sell or consign favorite luxury designers such as Louis Vuitton, Chanel, Prada, Gucci, St. John Knits, David Yurman, Christian Louboutin, Tiffany & Co. and more. All items are guaranteed 100% authentic. Visit RDR online at http://www.shoprdr.com or call toll free at (888)697-3725.