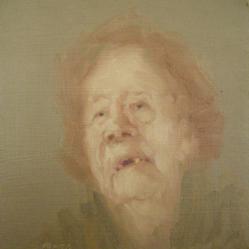 Her work connects the past to the present and gives us unexpected insights into the often unexplored corners of our souls.
New York, NY (PRWEB) July 31, 2012
The work of respected artist Donna Lynn Festa will be on display at The Painting Center in New York City, September 4 – 29, 2012. The exhibition, entitled "Thirty Portraits," captures Festa's unique point of view. According to the artist, "We wear our lives on our faces. These portraits are of people I've known or who have caught my eye. Each face tells a story in its own quiet way."
"More than ever before, painting has grown into a medium that effectively translates the vibrations of the natural and metaphysical realms. While the public perception of painting has waxed and waned over centuries, its reliance on pure skill and visionary dedication has only intensified," stated Robert Fontaine, Director of the prestigious Robert Fontaine Gallery of Miami, Florida.
"Donna relays her subject matter with remarkable vulnerability and at times, a chilling sense of clairvoyance," continued Fontaine. "The distant gazes of her characters thinly veil a solid acceptance of their circumstances. Often depicting glimpses of the elderly, Festa creates an uninterrupted conversation between the observer and observed."
Using oil on wood, Festa makes each painting quickly, in one sitting, in order to keep the loose, fresh quality of a sketch. The size is intentionally small in purposeful contrast with the greedy, loud and overstuffed society reflected directly in much of contemporary art in recent decades. She is attached, in a visceral way, to the fluidity of oil paint and the nuanced textural and lighting effects it facilitates, as well as traditions in portrait painting.
Retired Director of the Maryland Humanities Council, Barbara Wells Sarudy observed, "Donna's perfect, little, intimate works draw visitors in immediately - starting conversations, stirring emotions, and bringing back treasured memories. Her work connects the past to the present and gives us unexpected insights into the often unexplored corners of our souls."
The exhibition at The Painting Center is part of a month-long celebration of portraiture that also features "Inside Out," an exhibition of work by local New York painter Robert Bunkin. The schedule of events includes:

Opening reception: Saturday, September 8, 2012, 2:00 – 5:00 p.m.
Artists' Dialogue: Festa and Bunkin will talk about their work. Saturday, September 15, 2012, 3:00 – 4:30 p.m.
Solo Recital: Guy Klucevsek, composer and accordion virtuoso extraordinaire: $10. donation, Saturday, September 22, 2012, 3:00 – 5:00 p.m.
Final Day of the Show and Poetry Reading by Joan Larkin: Voluntary donation, Saturday, September 29, 2012, 3:00 – 5:00 p.m.
The Painting Center is a non-profit exhibition space located at 547 West 27th Street, Suite 500, in Chelsea, a neighborhood considered by many to be "the center of the art world in New York City." The Painting Center helps to unite working artists and engage them in conversations about art, culture, and the challenges of painting in a rapidly changing world. It recognizes and celebrates the accomplishments of outstanding painters, including younger and older artists who are under-recognized. For directions and more information about The Painting Center visit http://ThePaintingCenter.org
Festa was born in Vineland, New Jersey in 1960. She received her MFA in painting from the University of Hartford in 1996, her BFA from the University of the Arts, where she graduated summa cum laude in painting in 1989 and earned a certificate in painting from the Pennsylvania Academy of Fine Arts in 1987.
Festa's work can be found in both public and private collections. Her painting, "Conversation" is part of the permanent collection at the State Museum of Pennsylvania. She has also exhibited at the George Walter Vincent Smith Art Museum in Springfield, Massachusetts. In addition, her work has been shown at venues in Philadelphia, New York, Chicago and Miami.
Paintings by Donna Festa can be found at the Sara Nightingale Gallery in Water Mill, New York, in the Hamptons, and at the Robert Fontaine Gallery in Miami, Florida. Person's interested in learning more about Festa and her work can visit the artist's website at http://www.DonnaFesta.com