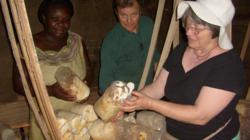 Mushroom farming is a proven tool for economic development. Farmers buy the bags, water them, and in 72 hours they can sell fresh mushrooms.
Perkins, OK (PRWEB) July 31, 2012
The Voice of the Mushroom Foundation is a response to the need for information, technology, and effective marketing strategies for mushroom growers. The Directors of the newly formed Stillwater, Oklahoma-based organization are businesswoman Lin Bockhahn, mycologist Dr. Stephen Marek, food chemist and international consultant Dr. Patricia Rayas-Duarte, mushroom growers Doug Williams and Dr. Sandra Williams.
The Voice of the Mushroom Foundation is the next step for Doug and Sandra Williams of Lost Creek Mushroom Farm who volunteered in Ghana, West Africa, as mushroom consultants in 2007. They worked with Bemcom Training and Resource Center in Techiman, a city in the Brong-Ahafo Region. Bemcom trains mushroom farmers and produces bags of composted sawdust inoculated (seeded) with oyster mushrooms.
Farmers buy the bags, water them, and in 72 hours the fresh mushrooms are ready for market. In 2007, Bemcom was producing 1,200 mushroom bags a week, with production levels severely hampered by local and country-wide contamination. Sandra and Doug's work increased Bemcom's yield by more than 35%.
2008 marked the start of recovery for Ghana's mushroom industry, thanks to Dr. Omon S. Isikhuemhen of North Carolina Agricultural and Technical University and Dr. Mary Obodai at the Food and Research Institute in Ghana's capital city of Accra.
In 2009 Mushrooms in Ghana Project invited Bemcom Director Bernard Bempah and a colleague to the US for training in shiitake mushroom log production and to tour shiitake and oyster mushroom farms. Bempah and Dr. Williams attended the United Nations Conference on Sustainable Agriculture, where they spoke on mushroom production as a tool for economic development.
When Doug and Sandra returned to Ghana in 2011, Bemcom's weekly production had mushroomed to 4,200 bags.
"In 2007 the farmers complained, 'what can we do with the unsold mushrooms?'" Sandra said. "Four years later they complained, 'Our customers want more mushrooms and we can't get enough bags!'"
The problem was shortage of spawn. Mushrooms in Ghana Project provided some of the equipment needed for Bemcom to produce its own spawn and is still working toward completing that goal.
Sandra explained, "Spawn, the seed material for growing mushrooms, is in short supply throughout much of the world. It's plentiful in Asia, where mass cultivation originated, but hard to come by for small-farm growers in other countries."
As they learned about worldwide mushroom contamination problems and spawn shortages, the Williams' sought to expand Mushrooms in Ghana Project. "I've been talking with growers and people wanting to grow mushrooms in Central America, South America, Rwanda, Nigeria, Mozambique, Romania, Pakistan, India, Afghanistan, Bulgaria, Hungary; and also, many potential growers here in the US," she reported. "The need for information, for spawn production laboratories, trained technicians, and contamination control is enormous."
"Mushroom production is a successful tool for economic development, especially for women- and family-operated farms, as Bemcom's program has demonstrated," Sandra said. "We want to facilitate the availability of spawn, the growth of effective practices for small-scale farmers, the reduction of contamination, and the increase of mushroom consumption.
"We have a board of committed, capable professionals, and we look forward to creating an advisory board that will move The Voice of the Mushroom Foundation into national and international prominence for small-scale mushroom production and sales."
Lost Creek Mushroom Farm is in its 20th year of making grow-your-own shiitake mushroom log kits. A portion of sales is donated to Mushrooms in Ghana Project,. In 2011, the project delivered lab equipment and initiated an experimental study at Bemcom Training and Resource Center to determine local, plentiful wood species best suited to shiitake mushroom log production.