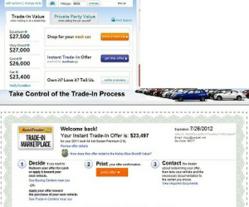 Los Angeles, CA (PRWEB) July 31, 2012
Premier Auto Lease, Los Angeles 's Premier Auto Brokers, takes in and/or facilitates trades on a very regular basis. After all these years, PAL still gets people emailing or faxing print outs from Kelly Blue Book (KBB). KBB is meant and supposed to simply be used as a loose guideline. It says so right in KBBs explanation of how a value is determined. It also says the value is usually contingent upon the purchase of a new car. That's so a dealer can bury the negative equity into a new lease or purchase. PAL isn't saying that's necessarily a negative thing as long as it's disclosed. KBB is not in the business of buying or selling cars; in fact, KBB does not actually buy or sell any cars. KBB is in the advertising and referral business. Every time KBB refers someone to a dealer who buys a car and/or when someone buys a new car KBB gets paid. When KBB gives a trade value the Instant Trade in Offer from Auto Trader can be filled out on the same page. KBB and Auto Trader are the same company. Here is a real life example from a real life PAL client last week: while KBB says the trade is worth 27k, when the instant trade in offer is filled out KBB/Auto Trader offers 23.5k – the actual true value of the trade.
Are we saying KBB is bad, absolutely not. PAL is saying the same thing that KBB says - that it should only be used as a guide and there are many other factors that go into determining the value of a trade. Dealers or wholesalers look at recent auction transactions as well as current incentives on new cars of the same model along with many other factors. Take a 2011 Audi A4 as an example: the car has only 8,000 miles on it and is in new condition but there's a $2,000 incentive on a 2012 A4 right now so a new one can be bought for about $2,000 below invoice. Dealers or wholesalers will never pay close to retail for a trade, they're in business to make money as they should be. All that being said, selling a car via private party will almost always yield a greater sum, but that's much easier said then done as anyone who's ever tried to or sold a car can attest to.
So it comes down to the age old question: is it personally worth it to take the time to place an ad or ad's, answer the calls and questions, and deal with meeting strangers? Then there are the mechanics, finances and DMV paperwork etc - it's a lot of work and not easy or fun. The question only an individual can answer is, 'Is it worth it?'; To most people the answer is no. PAL has established relationships with numerous dealers and wholesalers to shop a trade and PAL always does our best to get maximum trade value. Contact PAL when in the market for a new or pre-owned lease or purchase and experience the PAL difference.