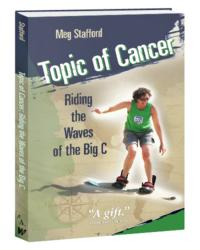 "Her sense of humor and joie de vivre put the 'Big C' in its place, giving it an appropriate amount of gravity but no more." Patricia Monaco, Assistant to the Director, Nautilus Book Awards.
Boston, MA (PRWEB) July 31, 2012
Aside from the IBPA Award, Stafford's book has also received these five: First Place from Reader Views Literary Awards in the category of Body/Mind/Spirit and Second Place in the category of Health/Fitness; a Nautilus Silver Award in the category of Women's Issues; a Gold Award from the International Book Awards in the Women's Health category, as well as a Silver Award in their category of Health: Cancer.
Stafford first learned that she was a finalist for these various awards while trekking in Nepal with her family. She had stopped at the only place in a tiny village with an Internet connection so that she could check on the status of her daughter's visa for Bhutan, and she saw an email from Nancy Cleary of Wyatt Mackenzie Publishing, about the award notices arriving.
"Topic of Cancer" was released in March 2011, and chronicles Stafford's escapades through treatment for lobular invasive breast cancer with humor, soul and style. The various book award organizations that acknowledged her book, as well as readers and Book Reviewers, agree her candor draws the reader in but it's Stafford's engaging word play that keeps the reader entertained while being informed.
Some of the feedback and reviews Stafford and her book have received include the following:
"When the usual reaction to a diagnosis of cancer is dread and drama, it is refreshing to pick up Meg Stafford's take on her experience – that cancer is not something that destroys your life, but something that you can get through," explains Patricia Monaco, Assistant to the Director, Nautilus Book Awards. "Her sense of humor and joie de vivre put the 'Big C' in its place, giving it an appropriate amount of gravity but no more. There is no denial here, just acknowledgment of what is, and a clear-eyed look at what can be. Stafford is to be commended for being one of the first in the limitless library of cancer memoirs to show that living with cancer is still living. She is encouraging and upbeat, bringing hope and confidence and honesty to what is becoming an all-too-common experience."
"'Topic of Cancer' is a must read for people who have, or are, experiencing breast cancer, and for those who are close to them. I would also highly recommend this book for women's reader groups. I can't imagine anything more valuable for a group to read. I am very grateful for having the opportunity to read Meg Stafford's story," shares Paige Lovitt, Reader Views Awards.
"This book should be read by all doctors and clinicians. And there should be copies available in every treatment center across the country!" exclaims Catherine Jaffe, APRN, Hallmark Health, Lawrence Memorial Hospital. "Meg gives us glimpses of her rich life, showing us the importance of communication and how she accesses the support of her 'team'. She captures the absurdities that women deal with in the waiting rooms of treatment centers and gives a voice to women in the situation with her emotional intelligence, and her insightful and witty writing."
The entire concept for her book came from her communication with friends and family via email up-dating them on her treatment that included surgeries, chemotherapy and radiation. Keeping her humor throughout this process, Stafford aptly named these emails her Breasty Business Update. She quickly began to hear from a number of people saying her up-dates helped them understand a family member or friend who had undergone a similar experience, or who may be facing treatment themselves. Others responded to the jokes and commentary included in Stafford's missives. She also received encouragement from many to formalize her Breasty Business Updates into a book and she embraced this new challenge with her characteristic energy and focus.
Stafford shares, "The response to it has been really lovely. People newly diagnosed, as well as caregivers to loved ones or patients, have made a point to let me know how helpful it has been. Even those with no immediate connection to cancer have told me they just enjoyed the read and the motivation they took from it, and have recommended it to others."
To reach Meg Stafford for media interviews, speaking engagement inquiries, or for bulk book orders, contact Meg directly at: 1-978-501-2659; megstaf(at)aim(dot)com; or visit MegStafford.com.
About Meg Stafford:
Meg Stafford has over 25 years of experience as a Clinical Social Worker. Her work began at Beth Israel Hospital, a Harvard teaching hospital and she currently maintains her private practice as a Psychotherapist and Executive Coach in MA. Meg also holds certificates in Executive Coaching and Organizational Consulting from the Massachusetts School of Professional Psychology. In addition to those areas of her professional life, she is a Professional Speaker and has been a Columnist for several newspapers over the span of the last nearly thirty years. Some of her story topics have included: My BFF, A Summer Romance (about a frog); Dealing with Three Deaths; and the Round Oak Table, which was about the importance of family occasions around the large hand hewn table.