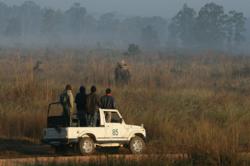 Portal, Arizona (PRWEB) July 31, 2012
As a nature travel company, Naturalist Journeys, LLC, may be impacted by India's recent Supreme Court decision to halt all tourism within core areas of the nation's 40+ tiger reserves, including the premier reserves of Kanha, Ranthambore, and Corbett. Their India Wildlife and Birding Safari: Birds, Tigers and the Taj Mahal journey is scheduled to depart Feb. 14-24, 2013, followed by an extension to Goa, India's Hotspot for Biodiversity Feb. 24-Mar. 1.
On July 25th, as debate heated up about India's temporary court ban reported the previous day, the New York Times and International Herald Tribune Global Edition Blog printed an interview with Tiger Activist Ajay Dubey of the nongovernmental organization Prayatna, who filed a PIL (Public Interest Lawsuit) demanding removal of commercial tourism activities from core or critical tiger habitats in the tiger reserves, which according to the Times of India triggered court action. According to court documents, six of ten states are in violation of their April 4th directives, and the court has given them three weeks to comply, with a final hearing scheduled for August 22nd. Until that time, as CNN and other news sources report, tourist entry to core areas of tiger reserves are banned.
When asked what they'll do if a new order is not issued by the courts by October 1st (the date when parks open again after a seasonal closure for the monsoon rains), company owner Peg Abbott says "we'll work with our local operator who knows the region intimately to assess where we might work best in the reserve's buffer zones. Then, we'll go to our clients to let them choose if they want to continue the trip. I trust they will, for India is replete with natural wonders, but they will have the choice. While tigers are a main draw, there are myriad colorful birds and rare mammals like leopards, Indian Wild Dogs (Dholes) and Sloth Bears, all possible to see. In Alaska and Yellowstone we work to see wolves and bears, but it's the full picture of wild nature guests treasure in the end. If tourism is perceived as enough threat to close the core areas, we have to listen and put the interest of the animals we value enough to cross the ocean to see – first."
Based on thirty years of experience in ecotourism, Abbott is concerned about a total ban. She agrees with Belinda Wright, executive director of the Wildlife Protection Society of India, who points out that regulation and responsible tourism are stronger solutions than a ban. Many of the parks now limit vehicle numbers, the amount of time vehicles are allowed to be in the park, and speeds at which vehicles can travel. Some have voluntarily already closed core areas. Abbott says, "Options could include an incentive system with permits awarded, and stricter guidelines and mandatory enforcement which can be put in place." The Times of India reported July 25th that several tiger reserve managers have weighed in on the debate, saying they fear without tourists, poaching will become a far greater threat.
Naturalist Journey's conservation-committed and feisty owner firmly believes that conservation in the long run will only succeed if it provides local people living adjacent to protected areas with sustainable income. Abbott says, "It is a fine balance. Development has to be done responsibly, and some of the worst examples of unplanned development are right here in our country in our national park gateway communities. If done well, buffer zone and gateway tourism facilities can promote a level of visitation that assures that lawlessness, poaching and illegal resource extraction will not occur." She fears the closures will encourage poaching and habitat destruction when tourism dollars disappear. She says, "I've been impressed with India's efforts. Project Tiger, the government-sponsored organization with management authority for the reserves, has given incentives for villagers to move out of the core areas and re-establish in the buffer zones. I don't like to think of what will happen when these people lose their livelihoods as guides, shop owners, jeep drivers, or hotel and restaurant employees. Project Tiger is a model program for other nations. This court ruling implies that it has failed."
Abbott believes that India has much at stake in resolving this conflict, saying "Tourism is a major source of revenue, and the chance to see tigers in the wild has international appeal." She suggests that the court's decision and call to action may provide the pressure needed to re-craft the style of wildlife-viewing currently tolerated in parks in India, a style very different from that of East Africa. Abbott was appalled on her first India safari, when a radio call came in crying "Tiger" and the driver dashed off at unsafe speeds, only to arrive a few minutes late to line up with a dozen vehicles surrounding a set of tracks. But, she found drivers willing and relieved to omit the mad dash and look for tigers at a greater distance, observing what they do in the wild naturally, with use of good optics. "We see amazing behaviors of wolf packs in Yellowstone because we have to watch from afar. Yellowstone has strong guidelines on how closely anyone can approach various species, with higher distances demanded for bears, wolves, and other sensitive species. Discussing this with our drivers gives them an opportunity to consider another style, knowing it can be accepted by viewers."
India's tour operators associated with the Travel Operators for Tigers (TOFT), a group committed to the conservation of tigers and the livelihoods of bordering communities, have issued a formal response to the ban, in it noting that also at stake is the success and reputation of the world-acclaimed Project Tiger, a government-sponsored initiative established in 1973 to turn around the serious decline in the tiger population. India's diverse habitats provide home for over half of the world's wild tigers. The 2010 National Tiger Assessment estimated the total population of tigers in India as 1,706. While tiger numbers are on the rise, corridors of habitat connecting reserves and the buffer zone habitats are in decline. Naturalist Journey's Peg Abbott predicts "India has the opportunity to come out the high-stakes, heated debate about the court injunction banning tourism with better tiger viewing guidelines and an improved management plan."
For further information on the tourism ban, see recent articles in CNN and CBS.
Find full details for Naturalist Journeys' upcoming India Wildlife Safari on their website.