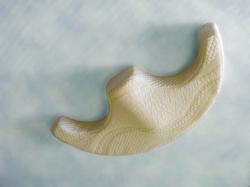 We are just days away from going live with the new website. This is a major step in our brand and our new image for Comfort Quest.
Agoura Hills, CA (PRWEB) July 31, 2012
Comfort Quest, Inc., manufacturer of the Side Sleeper Pillow designed to help women manage their pain and sleep well after all types of chest surgery, announced it will launch its new-look website August 1, 2012.
The Side Sleeper Pillow was designed specifically for surgical recovery or breast pain relief. Most women experience breast pain after several types of chest surgery. The recovery pillow will help patients after surgeries such as Augmentation, Cancer, Open Heart, Mastectomy, or Lumpectomy. Comfort Quest recently started marketing the pillow as a maternity (pre and post-birth) product.
The new website will feature a new logo and easier to navigate screens which will help customers and potential customers to find the right information faster and easier. It will also allow visitors to register contact information in exchange for more informative information such as articles, blogs, links to partner sites, and greater access to valuable information.
"Everything we do is for the advantage of our customers who are looking for answers about their medical situation," said Ben Kass President of Comfort Quest, Inc. "First, we provide them with a product (the Side Sleeper Pillow) which will provide them with comfort when they need it most. Our second and only other product has always been easy access to information. We have always thought of Comfort Quest as a single source of valuable and personal information. We just want to be helpful."
The breast support pillow is currently offered for $59.95 on the company's website. Comfort Quest already has a network of plastic surgeons, medical supply stores, lactation specialists, and certified fitters in the United States and Canada which will supply their patients with the Side Sleeper Pillow or direct them to Comfort Quest's web site at http://www.mycomfortquest.com.
Comfort Quest, Inc is a southern California based corporation located in Agoura Hills. The company intends to continue to develop post surgery products for women. The Side Sleeper Pillow is the company's first product in this category.
For additional information:
Ben Kass (818) 665-2012
President
ben(at)mycomfortquest(dot)com
mycomfortquest.com
Copyright© 2012 Comfort Quest, Inc.