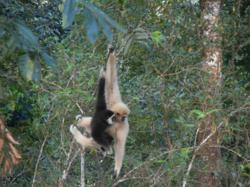 The experience of a zip line adventure combined with a free first class hotel room is set to expire at the end of October, 2012.
Bangkok, Thailand (PRWEB) July 31, 2012
Until the end of October, 2012, zip lining in the only rainforest locations in Thailand, and a room night at one of nine of the country's top hotels will cost less. Flight of the Gibbon zip line canopy tours and Imperial/IMM Hotels will partner to offer an adventure package that combines the thrill of ziplining with the comfort of a quality hotel room for 3299 baht, the cost of just the zip line tour.
The offer is based on the purchase of two zip line canopy tours and double occupancy for the hotel room. Up to three people can stay in each room and accommodations include breakfast for each person and round trip transportation from the hotel to the zip line courses, about one hour away from each hotel. There are seven hotels to choose from in Chiang Mai, but only one in Bangkok and one in Pattaya, and reservations are on a first come, first served basis, so the companies suggest reservations be made early.
For those interested in staying only in Chiang Mai, an additional hotel room night at Imperial/IMM Hotels is included with the purchase of a Segway Gibbon two hour tour of Chiang Mai for 1999 baht. Segway Gibbon is owned by the same company that runs Flight of the Gibbon,
Treetop Asia. Chiang Mai visitors experience a glided tour on the world's first electric, self-balancing personal transport vehicle featuring stops at the most popular and historic landmarks in Chiang Mai.
For complete details and free, first- come, first-served reservations, please visit:
http://www.flightofthegibon.com/green-season