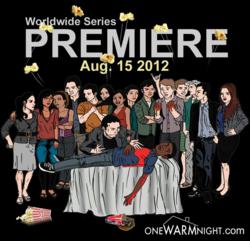 One Warm Night named "Editor's Pick" on WebSeriesChannel.com and Blip.tv. Recognized by industry leaders as a breakout series and the one to watch!
Los Angeles, CA (PRWEB) July 30, 2012
The first show of a 9-episode web series produced by The Actors Room in association with Last Chance Productions Film Partners, LLC will debut on Wednesday, August 15, 2012 10:00pm PST, on OneWarmNight.com and BLIP.tv, one of the internet's largest independently owned and operated video networks, with over 300 million views per month, claiming more than 13 million unique US viewers and approximately 30 million global viewers monthly, including syndication to iTunes, YouTube, Facebook, Twitter, Roku, Verizon FiOS, TiVo, Sony TVs and elsewhere.
One Warm Night named "Editor's Pick" on WebSeriesChannel.com and Blip.tv.
A dark comedy, One Warm Night is "One Flew Over The Cuckoo's Nest" meets "12 Angry Men" meets "Clue". A near-murder whodunit, involving a beautiful girl who invites her past boyfriends to reveal a life-changing secret. This unwitting group of misfits and oddballs find themselves caught in a game of cat-n-mouse as a plot to murder them all unfolds. But who is trying to kill them? Things heat up as a multitude of mysteries are revealed, leaving even the most aware guessing at what is truly "real" in the crazy twists and turns of One Warm Night.
The web series is written, produced, and directed by Steven G. Lowe of Last Chance Productions Film Partners, LLC and The Actors Room.
The large ensemble cast includes: Sean Michael Afable (Akeelah The Bee / Scorpion King), Justin Lee (Arrested Development / Shameless), Jared Hernandez (Disney 365 / Disney XD), Julie Manriquez, Koko Laimana, Brandon Thomas, Ryan Tsang, Anthony Kongphan, Jonathan Wiersma, Yasmeen Yamak, Matt Lunn, Joe Salling, Kory Bennion, Mac Chapel, and Frances Tang.
One Warm Night star-studded Red Carpet Premiere is also scheduled on Wednesday, August 15, 2012 at Lot 613 in Downtown Los Angeles, CA exclusive to Hollywood's elite trendsetters, entertainment industry, and celebrities.
To view the highly-acclaimed teaser and for all things One Warm Night, check out the official website http://www.OneWarmNight.com.
ATTN BLOGGERS/VLOGGERS: The Actors Room and Last Chance Productions will be inviting the top 80 bloggers/vloggers to an exclusive first look, Q&A, and photo shoot of the entire cast of One Warm Night, prior to the red carpet event. With over 30 press/media core committed to the red carpet festivities, this press conference is strictly for our bloggers/vloggers. Press conference to take place same day as the red carpet event August 15, 2012 at Lot 613. For more details / RSVP to OneWarmNight@gmail.com.
Blogger/Vlogger Press Conference Schedule:
10:00AM - Check-in and continental breakfast served
11:00AM - Press conference begins
ATTN ALL MEDIA: We would like to offer your followers a chance to win a pair of VIP Tickets (valued at $1,000) to the exclusive, star-studded industry premiere screening and fashion show celebration at Lot 613 in Downtown Los Angeles, CA on August 15, 2012, red carpet starting 7:00pm. Enter via Twitter & Facebook by RTing the following message to your followers:
Win a pair of ONE WARM NIGHT EXCLUSIVE RED CARPET PREMIERE TICKETS. Follow&RT this msg 2 enter. Everybody please #mention, #retweet & #follow @OneWarmNight!! Series Premiers Aug 15, on http://OneWarmNight.com/ Check it out! THANK YOU!
Catch up-to-date news/announcements by following One Warm Night on:

Cast of One Warm Night are available for interviews.
For Talent, Entertainment Industry, and Media RSVPs for the exclusive LA Red Carpet Premiere 8/15/12, please contact Monica Busby or Mariesha Richard at Quantum Leap Entertainment // Monica@qle-pr.com or Mariesha@qle-pr.com or call 424-209-9QLE (753)
ABOUT THE ACTORS ROOM
The Actor's Room is dedicated to providing the willing Actor an opportunity to learn the most up-to-date, inspirational, and insightful acting techniques used in Hollywood and the Film/Television industry.  TAR have been responsible for training many of the top stars like Christopher Warren, Jr. (Disney's High School Musical / Men of Honor), Sean Michael Afable (Akeelah The Bee / Scorpion King / Hardflip), Justin Lee (Arrested Development / Shameless), Steve "Sting" Bordon (WCW Pro Wrestling Icon), Monet (The Suite Life of Zack and Cody / Lincoln Heights), Daniel Curtis Lee (Ned's Declassified School Survival Guide / The Shield), among others. http://www.TheActorsRoom.com
ABOUT LAST CHANCE PRODUCTIONS FILM PARTNERS, LLC
LCP's film and television slates are comprised of high-concept, generally family friendly, collaboratively written and/or top-quality purchased scripts.  Co-Founder, Steven G. Lowe, has been actively involved as a Creator, Screenwriter, and Production Executive since 1997, with projects such as, the $40M budgeted film, "The Jungle Prince" scheduled for production in 2013.  Co-Founder, C. Anthony Chase, has also been on over 200 television/commercial sets and 100 film productions in Hollywood serving the film community as either an actor, crewmember, or as principal producer.  As a member of the Screen Actors Guild, Anthony has worked on multiple television shows and feature films such as "City of Angels", "Frasier", "Fight Club" and "Face Off". http://www.LCPFilm.com 
# # #