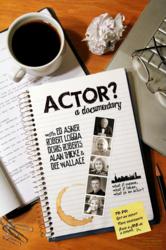 Chandler AZ (PRWEB) July 31, 2012
Actor? A Documentary is finishing post at Digital Image Studios in Farmington Hills, MI. Music Supervisor, Lee Rudnicki will be utilizing the talents of composer James Peterson to create the musical atmosphere for this first ever full length animated documentary feature. This is the same team that did the original music for Margarine Wars, a romantic comedy also a movie from DB Rich Productions.
Nick Hrycyk, editor is looking forward to having this project ready to go early in September 2012. Digital Image Studios is creating the animation as well as doing the editing and sound design.
The movie follows the two main characters, Lou and Ping, through a day of discovering what it means to be an actor. Along the way actors from across the country will talk about different aspects of acting, casting directors will give advice to actors and celebrities such as Ed Asner, Doris Roberts, Alan Thicke and Robert Loggia will talk about their careers and experiences. In this animated world the interviews answers will be displayed on various screens in this animated world.
This is the first full length documentary that will be done in the animated style and should run approximately 94 minutes. This is another original project from DB Rich Productions.