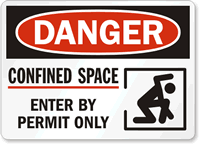 "The new confined space signs ensure that workers know that certain areas are off-limits," said Daniel Male, Manager at MySafetySign.
Brooklyn, New York (PRWEB) July 30, 2012
MySafetySign.com has released new confined space signs as safety tools for workers. Many of the signs are instructional items on how to proceed around confined spaces. Confined spaces require exercising the utmost caution.
Confined spaces are areas highly susceptible to accidents. According to the Center for Disease Control(CDC)'s website, a confined space is a space which has limited openings for entry and exit, poor natural ventilation with dangerous air contaminants, and not intended for continuous employee occupancy. These areas include spaces such as tunnels and storage tanks.
MySafetySign's signs are innovative in design and intent. The new Confined Spaces signs have bold text that indicate that permits are required or only authorized personnel can enter an area. "The new confined space signs ensure that workers know that certain areas are off-limits," said Daniel Male, Manager at MySafetySign.
The selection of Confined Space Signs includes Danger and Caution signs for blaring messages to stay clear of confined spaces. If MySafetySign does not have the specific sign desired, custom options are available. Simply enter text, upload a company logo or graphic and have it tweaked at no extra charge, and the sign will be ready to ship in minutes.
During the process of composing signs, MySafetySign takes great care in using durable materials that last for at least a decade. Aluminum, plastic, and vinyl are all hefty and affordable materials commonly used. Additionally, stand-up floor signs are also available for a more visible message.
For more information on Confined Space Signs, visit http://www.mysafetysign.com/crane-signs.aspx
About MySafetySign.com
MySafetySign is the Web's largest store for safety signage. The company's mission is to make signs and labels as effective as possible in order to prevent accidents and save lives. Customers can choose from over 40,000 designs and customizable templates.
About SmartSign
SmartSign is one of America's fastest-growing e-commerce companies and parent of MySafetySign.com, MyParkingSign.com, as well as more than 50 other sites. The company manufactures and distributes a wide range of signs, tags, mats, and labels. In the past, many consumers have found it hard to find, hard to design and hard to order signs with the right message. By positioning "signs as solutions," SmartSign has taken an entirely different approach. Through highly targeted, content-rich, and authoritative retail sites, the company provides specific solutions to specific problems, such as customizing a safety sign. SmartSign is widely recognized for its quality construction; its signs come with a 3M® warranty and outlast fast-fading, ink-jet signs.