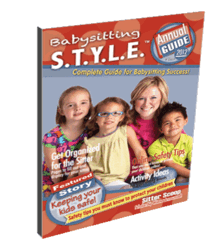 "Moms and dads should know their kids will be spending quality time with someone special who engages them with crafts and activities," Adrienne Kallweit, Founder and Owner of SeekingSitters.
Tulsa, OK (PRWEB) July 31, 2012
Parents won't have to think twice about going to a movie and dinner if they've done their homework and found a babysitter who's dependable and responsible, interacts with their kids and knows first aid, according to a [child safety expert.
"Moms and dads should know their kids will be spending quality time with someone special who engages them with crafts and activities," Adrienne Kallweit, founder and owner of SeekingSitters, said. "They won't have to worry about the sitter talking on the phone, plopping the kids in front of the TV or being able to handle an emergency. Instead of feeling guilty, parents can really enjoy their time together."
Adrienne and her husband used to have trouble finding someone safe and reliable to take care of their children. So, they founded the Tulsa-based, full-service babysitting referral service SeekingSitters in 2004 to help other parents. They took the idea national in 2006 forming a franchise which now has 57 locations in 23 states. Adrienne is a licensed private investigator and has in-house investigators who conduct thorough background checks and screens potential babysitters for parents to find the best of the best.
How can you have the best babysitter on the block? Here are Adrienne's TOP TEN characteristics of a good babysitter:
1. They have great references. Usually, great babysitters are in demand and often take care of the same children.
2. They are responsible and dependable. They're also positive and confident when speaking to you. In addition, they're always polite and respectful.
3. They can show you current first aid credentials. They are certified in CPR. While you examine their credentials, talk to the sitter about any health issues or disabilities your child may have. Ask them how they plan to handle common injuries such as burns, cuts and scrapes and bleeding.
4. They provide crafts and activities for children. The sitter has good ideas about how to spend time with your kids or brings along age-appropriate crafts and games.
5. They leave your home looking better than when you left it. The sitter is tidy and pitches in to help the children clean up after activities. Just to be sure, set clear expectations for the sitter.
6. They're safety conscious. They won't open the door to strangers, let the kids surf on the internet unmonitored, etc. And they keep their own cell phone off except for an emergency.
7. They ask about discipline and learn in advance what is acceptable and unacceptable behavior.
8. They request an instruction sheet with contact information and emergency details. (Parents can also buy Family Information Packets at http://www.SeekingSitters.com.)
9. They ask about food allergies and what your children like and don't like to eat.
10. Most importantly, they like your kids. Your kids can't wait to see them again.
Some parents are so busy, they don't have time to screen their own sitters. That's where SeekingSitters comes in. They do all the work for parents. Through SeekingSitters website, parents can have a great time out, knowing their kids are well taken care of. No matter where they live, day or night, weekdays or weekends. SeekingSitters is nationwide in 23 states with 57 locations. That means wherever parents travel for work or vacation, they'll be able to leave their kids with babysitters who have been fully vetted.
About SeekingSitters
Founded in 2004 in Tulsa, Okla., SeekingSitters is a nationally recognized babysitting service providing reliable, convenient and safe babysitting solutions for families, from last minute childcare needs to regular scheduled services. Founded by Adrienne Kallweit, a Licensed Private Investigator, SeekingSitters has an in-house investigation agency that provides hands on background screening of the professional sitters as well as all member families, ensuring the safest, most enjoyable experience for all SeekingSitters' member families and referred professional sitters. SeekingSitters was named to Inc. Magazine's list of 500 fastest growing private companies in 2010. The company was also the winner of Tulsa's First Annual Entrepreneurial Spirit Award in November 2007 and was named one of the "25 Best Women-Owned Businesses" by Working Mother Magazine in 2008. SeekingSitters has been featured on Fox & Friends, CNN and CNN Headline News, CBS Early Show, in Entrepreneur Magazine and on the CNBC Show "The Big Idea with Donny Deutsch." For more information, please visit http://www.seekingsitters.com.