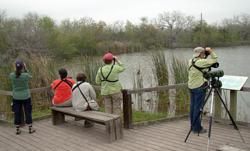 "Plenty of birds plus a great experienced leader equals an unequalled Rio Grande safari." – Chase Davies, South Texas journey 2011
Portal, AZ (PRWEB) July 31, 2012
Susanne Apitz, Travel Specialist of the Arizona-based company, Naturalist Journeys, predicts that in a year with the Olympics and National Elections, as 2012 draws to a close, some will fall short on planning time, and face a dilemma regarding vacation time: "Use it or lose it."
In her previous incarnation as a professional engineer, Apitz saw colleagues deferring vacation due to lack of time for planning. Vacation days were sometimes lost. "Life is busy; there's no time to plan," Apitz explains. "But nature beckons, and people really want to get away. Or, they've always wanted to try a guided tour, but haven't wanted to commit to a long trip at great expense. Team this up with worries in a declining economy, where many are looking for the most bang for their carefully-saved bucks, and vacation planning quickly gets overwhelming. It may be better to invest in a small guided journey where all the details of a trip, including world-class guides, interesting hotels and delicious food, are carefully selected to avoid expensive mistakes that may result from lack of area knowledge."
Either way, Apitz says, her experience has inspired Naturalist Journeys to find a solution — they've crafted ten highly-varied destinations for under $2000, so clients can skip the planning!
For those who want to explore the west, they offer the Four Corners Sampler: Lands of the Navajo & Hopi, October 9-14, 2012, or New Mexico in Winter—Bosque del Apache & the Sandia Crest: Sandhill Cranes and Rosy Finches from Dec. 2-7, 2012. Next spring, a short journey to Zion National Park from March 20-24 is planned as a Death Valley trip extension, but could, booked on its own, serve as a great introduction to the advantages of a guided tour to see an area with a new outlook. Guide Greg Smith has decades of experience in the area and can provide insight and fun to the journey.
The wonders of the middle section of the country can be explored in this fall's Ozark Mountain Magic, from Oct. 21-28, or enjoy the magnificent birds in Platte River Cranes & Prairie Chickens; this popular trip is offered March 11-17, 2013. Ed and Sil Pembleton, expert area guides, lead these two journeys as well as Kansas Tallgrass Prairie Spring, April 28-May 3, 2013.
Texas is huge and has much to offer nature travel enthusiasts. South Texas Birding & Wildlife, February 16-21, 2013 is another popular trip to an incredibly productive birding area. Another short journey to South Texas, focusing on Whooping Cranes, is offered from February 21-24 and provides an excellent opportunity to take a short guided journey with a supremely experienced guide. The same guide, Bob Behrstock, will be leading the Texas Hill Country journey from April 14-19, 2013.
For a chance to see another country at a good price, Apitz recommends The Other Honduras: Mountains, Valleys & Cloudforest National Parks & Reserves, March 22-29, 2013 with guide Robert Gallardo.
"Some of the shorter journeys described above can provide an excellent interlude in a longer trip," Apitz continues, "giving travelers reluctant to commit to a longer guided trip a chance to combine private and group travel in one vacation. Other travelers simply don't have the time to devote to a long trip, and the shorter options could prove ideal."
Details of Naturalist Journeys' 10 trips under $2000, as well as many other offerings, can be found on their website.