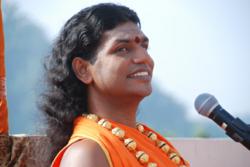 When you are intoxicated with the beauty of life, no amount of wealth will have an impact on you.
Los Angeles, CA (PRWEB) July 30, 2012
July 28th 2012: To the surprise of all his followers worldwide, His Holiness Paramahamsa Nithyananda resumed speaking on the Bhagavad Gita verses from Mt Kailash Yatra.
He said, "Out of the millions of qualities of enlightened beings, Bhagwan Sri Krishna is choosing to talk about only those qualities which will inspire us towards enlightenment.
"For example, yesterday I experienced the huge downloading of Hindi language happening in my system. Maybe in 3 months I may start speaking in Hindi. If I describe the process it may not inspire you, it may feel like a live surgery happening in the body, where even my body language is getting changed to accommodate the Hindi language. This is because the Hindi language is not just a language but an expression of an ancient culture. Verbal expression of a culture is language.
"If one learns Sanskrit then they can never be an atheist, because they won't be able to express the language unless they master those great Vedic concepts behind the words. Sanskrit is a verbal expression of Vedic concepts, science and culture. Just expression of words does not make one complete. The whole language and concepts behind the words has to be assimilated.
"If I explain the whole process of how the downloading of Hindi language happened, you will not feel inspired, you will only feel perspired. Along with Hindi, the body language of North Indian life style was getting downloaded. Let's see how it expresses.
"But Sri Krishna chooses very beautifully the qualities of enlightenment which inspires you, qualities of an enlightened being which inspires you. Each one can start practicing the sacred truth behind this verse now.
"Bhagwan gives a very powerful process by giving only the qualities which inspire. If all the qualities are described, then instead of being inspired one may say I know for sure I am not enlightened. One will only reconfirm the distance between oneself and one's enlightenment. Every time we reconfirm our distance between ourselves and our enlightenment, we are getting distanced. The moment one turns back to check if God is following us or not, he disappears. Enlightenment is just like that. Every time one reconfirms their distance from enlightenment, they are only creating distance from it.
"But Bhagwan is expressing the qualities one can start practicing now to start feeling the signs of enlightenment. One should neither rejoice on obtaining something agreeable nor shrink from something undesirable. He who remains steady in comprehension is not confused, knower of the Supreme remains firmly established in the Absolute.
"Bhagwan Sri Krishna assures us that by meditating, contemplating on this verse, nobody can stop us from enlightenment. Bhagwan Sri Krishna is an embodiment of pure love, untouched by ordinary lust, fear and greed. Only when his words are translated in the same way with same consciousness, we will get the grace of Gita. This is such a beautiful verse like a peacock feather. I leave the peacock feather for you to enjoy."
For more details on the Inner Awakening Spiritual Retreat: http://innerawakening.org/ or 1-800-265-3386.
For more details on the Inner Awakening Spiritual Retreat on the cruise from 12-12-12 : http://www.prweb.com/releases/2012/7/prweb9723249.htm
For Paramahamsa's talk on "2012 - Truth Not Just Prophecy" : http://www.youtube.com/watch?v=5O68SCfXgBo&feature=plcp
For talks on Kundalini Awakening: http://www.youtube.com/watch?v=4JRXwdJzvjI&feature=plcp
Talk on Super DNA: http://www.youtube.com/watch?v=jWM5JmJVuX0&feature=plcp
Contact: Life Bliss Foundation @ 909-625-1400 or info(at)lifebliss(dot)org
About His Holiness Paramahamsa Nithyananda
Paramahamsa Nithyananda is a global leader in the science of Enlightenment& Inner Awakening. In the past ten years attempts have been made to map Nithyananda's brain, his energy levels, his mitochondria, his DNA. The scientific fraternity is continuously stunned by the results of what they can evaluate.
In a recent study, blood samples from a group of Inner Awakening participants aged above 50 years were subjected to a well-known protocol called MTT Assay for assessment of cellular energy levels. 100% of participants of this particular study recorded a drastic increase in energy levels, averaging 1300%. Such an increase is clearly impossible through any other known means such as exercise, yoga or fitness training, which can affect a maximum of 40% increase in cellular energy.
Clear, dynamic and modern in approach, Paramahamsa Nithyananda's teachings have already transformed 15 million followers in 150 countries with the fastest growing spiritual community around the youngest incarnation. He is the most watched spiritual Guru on the internet.
His Holiness Paramahamsa Nithyananda was recently appointed as the successor and 293rd pontiff of the world's oldest most ancient and richest Hindu organization, Madurai Aadheenam. Earlier this year he was recognized as one of the world's top 100 most spiritually influential personalities of 2012 by the reputed esoteric magazine 'Mind Body Spirit' from Watkins.