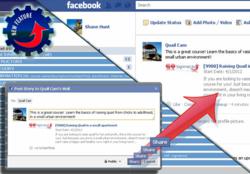 Lake Forrest, CA (PRWEB) July 31, 2012
GoSignMeUp, a leading online class registration and professional development platform, recently announced it's new direct integration into Facebook. Designed to help organizations to increase class enrollment sizes, this new solution is an efficient and powerful way to tap into viral marketing. Say's Mike Morrison, Chief Technology Officer with GoSignMeUp, "We are excited to improve our cutting edge technology that not only delivers easy online class registration tools, but also a great marketing solution. This new integration into Facebook will help our clients to increase class sizes without increasing budgets. "
Organization Facebook Page
Organizations can now automatically post their classes into their Facebook page. This opens up a whole new level of marketing that will greatly enhance class enrollments.
Student Facebook Page
Students can also recommend courses they like to their peers by clicking the Facebook icon, from the Course description page. Students are able to post the Course information in their Facebook time-line, along with their own commentary.
"This is exactly the type of features our clients have been asking for." says Ed MacNeven, GoSignMeUp CEO. "Our goal is to provide a wide variety of solutions that not only include great online class registration management, but back-end reporting, data mining and marketing tools as well."
GoSignMeUp is the leading provider of online class registration and professional development management software. It is being used by organizations of all sizes and in all fields that include corporations, health care, government agencies, and education. GoSignMeUp has the ability to work with face-to-face, online and hybrid classes. GoSignMeUp also integrates with Learning Management Systems such as Blackboard Learn. To discover more, please visit http://www.GoSignMeUp.com or call 888-286-4826.