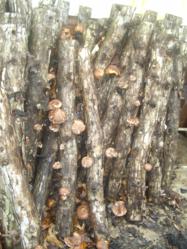 Shiitake mushrooms grown on logs are the top of the crop in flavor, nutrition, and health benefits. They're beautiful -- a gift from the natural world.
Perkins, OK (PRWEB) July 31, 2012
"Very few farmers are getting mushrooms in these triple-digit temperatures," according to Doug, Lost Creek's fungus farmer. "This is the time when growers are getting tired of soaking and lifting wet, heavy logs in high heat amid the mosquitos."
Lost Creek Mushroom Farm agreed to sell their 10-inch shiitake log kits for a prominent retail company and sold out of a year's supply in just a few weeks.
"Everyone was surprised," said Sandra, the business management side of Lost Creek Mushroom Farm, "people are getting interested in healthier, more wholesome foods. It was a lot of pressure to ship so many logs in such a short period of time.
"We are grateful for the opportunity. Those sales will help us go to an international mushroom science conference in Beijing and learn more about mushroom production for our work with Mushrooms in Ghana Project and The Voice of the Mushroom Foundation."
Shiitake logs are made with hardwoods such as oak. The logs are cut and inoculated, or seeded, in the winter. They begin producing, or 'fruiting,' the following fall, "so you can't just go out and make more logs – they have to have been already growing to be made into kits," she added.
"Most growers use their logs for mushroom production. Shiitake sales are up this year, so the growers don't want to let go of their stock," Doug explained.
"We are looking for a shiitake farmer who wants to get out from under the business and sell the farm. We've been able to help out other farmers in years past by buying their logs, and we're looking for another opportunity for both parties to prosper," Sandra said.
Lost Creek Mushroom Log Kits are available while supplies last at http://www.shiitakemushroomlog.com, by phone at 1-800-792-0053, and on Amazon.com at slightly higher prices.
Lost Creek Mushroom Farm started in 1992 and in 1993 began making grow-your-own shiitake mushroom log kits. A portion of sales is donated to Mushrooms in Ghana Project. In 2011, the project delivered lab equipment and initiated an experimental study at Bemcom Training and Resource Center to determine local, plentiful wood species best suited to shiitake mushroom log production. Doug and Sandra Williams are directors of The Voice of the Mushroom Foundation, dedicated to promoting small-scale mushroom farming in the US and in developing countries.