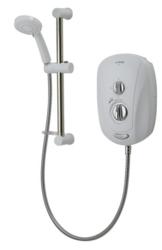 It's not always necessary to spend a fortune on your bathroom - a smartened-up bathroom could be just a click away.
(PRWEB UK) 30 July 2012
Online shower retailer Gainsborough has just launched a new range of electric showers. And, with the new GSX collection comprising three models to choose from, it's easy to add a stylish shower to your bathroom – even on a shoestring. In fact, with Gainsborough's entry-level GSX electric shower currently on sale at a special, introductory offer of just £79.99, a smartened-up bathroom could be just a click away.
Most people would love to give their bathroom a facelift. But as most people know, those little nips and tucks can all add up – and what starts with a pot of paint can quickly escalate into over-expenditure. However, it's not always necessary to spend a fortune on your bathroom. A great shower can really make a difference and the good news is that thanks to the latest showering technologies and trends from companies such as Gainsborough Showers, even bathrooms on a budget can benefit.
Straightforward to install, electric showers such as Gainsborough's GSX range are perfect for bathroom retrofits and refurbishments. If an existing electric shower is being replaced, the job – for a qualified plumber and/or electrician – should be simple and fuss-free. Electric showers such as those from Gainsborough's GSX range come up trumps when it comes to energy efficiency, too. Unlike a conventional shower that relies upon a reserve of stored hot water, an electric shower heats water as it is required. Accordingly, electric showers are a great 'green' option and of course, there's also peace of mind – should there be problems with a home's boiler – having an electric shower in the house makes a lot of sense.
Like many big home purchases, when buying new showers it's always wise to give a bit of time and consideration as to who will be using the item and what their requirements are. If it's a family bathroom it's sensible to opt for a shower that is as safe as possible. That way, everyone – from the kids to visiting parents and in-laws – can shower safely and with reassurance.
Key features should include an intelligent, automatic heat setting switch down and if possible, a phased shut-down safety feature. The former will ensure no one showers at an excessively high temperature – essential for children and vulnerable users. Phased shut-down means that left over hot water is flushed, in stages, from the shower's heating element after it has been switched off. Some electric showers will retain hot water – resulting in an unpleasant, hot 'spike' for the next user. But with a shower that features phased shut-down such as Gainsborough Showers' GSX Plus or GSX Deluxe, such experiences will become things of the past.
Another area to think about when selecting a new shower is ease of use. If the shower will be installed in a family bathroom, a shower with the simplest controls is a necessity. Look for showers with simple, push-button controls such as Gainsborough's GSX Plus. Buttons that illuminate – whether to show a heat setting or simply to indicate whether the power is on or off – are also a reassuring visual feature.
Similarly, whilst they might cost a few more pounds, showers that feature an LCD display to show their heat setting and other operational information make a great investment. Check out Gainsborough Showers' GSX Deluxe, which is currently available at the special, introductory price of £119.99. And, whilst talking about functionality, what about the actual showering experience itself?
Showering can be influenced by many things including our mood and the time of day. So why not cover all eventualities with an electric shower that features a multi-mode handset such as those from Gainsborough Shower's new GSX range? Each shower in the range – the GSX, GSX Plus and GSX Deluxe – comes complete with a handset that offers three different spray patterns. So whether it's a sixty-second shower on a busy work morning or something a little more relaxed at the end of the day, there's certain to be a spray pattern to suit.
Lastly, for total family flexibility, don't discount the importance of a shower with a height adjustable handset. A rail that the handset can slide up and down upon – and that accommodates the heights of different users – is ideal to ensure the comfort of all of the family.
So, with features and functionality sorted, what about finishes? Well, it's hard to go wrong with white, chrome or perhaps a blend of both. These finishes will complement all manner of bathroom styles and colour schemes – and should be hard-wearing to boot.
Hopefully, it will now be easier to make a showering choice. But before that final purchase is made, be sure to check out warranties, guarantees and aftersales technical support. Although you can now pop an electric shower into your shopping trolley alongside your groceries, it still makes sense to buy from a specialist manufacturer. And it's often the online brands such as Gainsborough Showers, who will offer the best deals.
At the moment, Gainsborough's new GSX range of electric showers is enjoying a special, introductory offer period. Take advantage of that, not to mention free next day delivery – and that lovely new shower could be up and running sooner than you think!