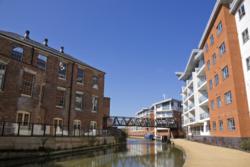 As the town continues to develop, there should be ample opportunity for business start-ups to prosper.
UK (PRWEB UK) 31 July 2012
Milton Keynes: The first half of 2012 has seen a record number of new companies being set up in Milton Keynes. 1355 companies were set up, more than any other first six months on record. The number is significantly more than the 1223 companies that were formed during the same period in 2011, showing healthy growth in the face of challenging economic conditions.
Milton Keynes is undergoing a period of change and development. In 2004, the government announced an expansion plan for the area, aiming for the population to be doubled within 20 years. Part of the plan involves moving away from the grid squares model that the town is currently based on, to mixed-use, higher density developments that encourage the use of public transport rather than cars.
The plan also focuses on the city centre, where a new office and retail facility known as "The Hub:MK" is being developed. Plans are also in place to develop high quality apartments at the edge of Campbell Park, with a series of "wildlife corridors" running out from the park to the neighbouring areas of Conniburrow and Springfield. The idea is to allow wildlife movement throughout the park and to encourage people from other areas to come and use it.
Managing Director of Duport.co.uk said:
"With such an intense period of development in Milton Keynes, it's no surprise that a record number of new companies have been set up during the first half of the 2012. As the town continues to develop, there should be ample opportunity for business start-ups to prosper."
The next decade promises to be an exciting one for Milton Keynes, making it a great place to start a new business and watch it grow with the city.
Duport Associates Ltd is a leading UK company formation agent, operating in the UK for around 15 years. Duport registers around 10,000 new companies each year using its Companies House approved software. The Company Register which is maintained by Companies House contains public information about Limited companies and directors.