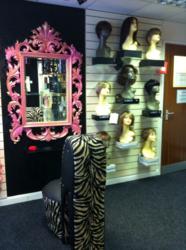 when they walk in they feel like they have just arrived at their best friend's pyjama party
(PRWEB UK) 31 July 2012
Harland Hair & Beauty, the store which sells buyhair.co.uk products, has recently been revamped to provide customers with a more girly, comfortable feel. Now, when customers enter the store they are immediately showered with gothic chandeliers, pink mirrors and animal print, stiletto-shaped chairs.
This face-lift is an attempt to provide people with a more personal touch, so that when they walk in they feel like they have just arrived at their best friend's pyjama party. Customers are made to feel comfortable in the animal print chair, where they are shown lots of different hair extensions and hair products. The trained hair extensions specialists in the store will give each visitor a free colour match, and allow people to try on wigs and hairpieces in order to help select the perfect style and length.
Trained staff is on hand between 9am and 5:30pm Monday to Friday, and between 9am and 1pm each Saturday. Not only do customers receive a free consultation, they also get one-to-one tuition on how best to apply hair extensions and hairpieces so they look natural and feel secure.
The store is located in Seaham, County Durham in the UK, and looks to have revolutionised the way we shop. May this be the first of many stores to help bring the personal touch back to our shopping experience. Customers who don't live near the store can shop online at http://www.buyhair.co.uk. The site offers a live chat facility, meaning staff is always available to answer any questions a customers may have. Visitors are also able to upload their own photograph to the site, where a trained professional will help to select the closest colour match. The site delivers world-wide, so don't forget to check it out!