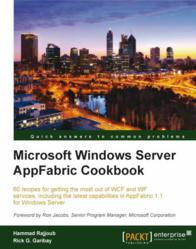 Download, install, configure and get up and running with Windows Server AppFabric quickly
(PRWEB) July 30, 2012
Packt is pleased to announce the publication of Microsoft Windows Server AppFabric Cookbook, which includes step-by-step recipes to gain a firm understanding of the capabilities provided by Windows Server AppFabric with a practical, hands on and result oriented approch. Developers will learn to develop highly scalable composite services that utilize the capabilities provided by Windows Server AppFabric.
About the authors:
Hammad Rajjoub: Awarded the Microsoft's Most Valuable Professional seven times in a row, Hammad works as an Architect Evangelist with Microsoft. With over 10 years of experience, Hammad is a published author and a frequent speaker at Technology conferences and has also founded a number of developer and architect communities.
Rick G. Garibay: Rick is a not only a developer, architect, speaker and author on distributed .NET technologies but also a General Manager of the Connected Systems Practice at Neudesic. With over 12 years of experience, Rick specializes in distributed technologies such as Microsoft .NET, Windows Communication Foundation, Workflow Foundation, Windows Server AppFabric, and Windows Azure.
Microsoft Windows Server AppFabric is a set of integrated technologies that makes it easier to build, scale, and manage Web and composite applications that run on IIS. Windows Server AppFabric is provided as extensions to the Application Server role of Windows Server, and an application is free to use its parts separately or together.
Microsoft Windows Server AppFabric Cookbook will start by showing professionals to set up their development environment using Windows Server AppFabric. They will not only be able to gain insight into the long-running composite applications proactively but also provide a set of integrated capabilities that extend IIS and the Windows Server platform making it easier to build, scale, support and manage them.
This cookbook will help the .NET professionals to take advantage of the enhanced hosting capabilities that Windows Server AppFabric has to offer and distributed caching for providing high performance and elastic scale on-premise. It will enhance their WCF and WF skills to make the most of Windows Server AppFabric.
Packt Publishing has also released and is due to publish other Microsoft's books:
1) Microsoft Windows Identity Foundation Cookbook (Published)
2) Microsoft Windows PowerShell 3.0 First Look (Expected)
3) Microsoft Windows Intune 2.0: Quickstart Administration (Published)
About Packt Enterprise
All Microsoft books are Published by Packt Enterprise. Packt Enterprise is a publishing division of Packt Publishing designed to serve the information needs of IT Professionals in the Enterprise space. Packt Enterprise also publishes on Microsoft, IBM, Oracle, Citrix, Java, Amazon, Google and SAP technologies.