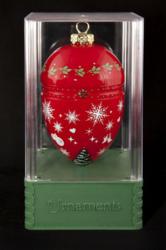 "When people look at their Urnament, I want them to be drawn to where the happy memories reside."
Glen Rock, New Jersey (PRWEB) July 31, 2012
Urnaments LLC, manufacturer of the Urnament and Pet Urnament has scored its first overseas retailer to showcase product in Australia. Foreign magazines such as Pets Magazine have also given flattering product reviews, generating much interest in The United Kingdom.
Urnaments and Pet Urnaments are a whole new kind of keepsake urn, the latest in the ever widening market of "concept" urns that are changing how people memorialize their loved ones and pet companions in the future. First introduced in the United States in May, 2012, the company has aggressively been searching foreign markets for retail venues (crematoriums, pet supply shops, online urn stores, etc).
"The Australian company, Elite Funeral Directors in Canterbury, New South Wales is important not only for being the first in a place so far away, but also because their local reach in that region is impressive," says Michael Martino, President of Urnaments LLC.
Also considering carrying Urnaments are PetProject.HK in Hong Kong and Urn Winkel in Germany. The going is slow, but Urnaments continues to make headway in spreading the word on the latest innovation in memorial urn products.
Urnaments LLC was founded by Michael C. Martino in 2010. All engineering / prototyping / designing of the Urnament was completed in November, 2011. Urnaments are technically known as keepsake urns and will hold up to seven inches of a person or pet's ashes. By matching their decorative appeal with an eyelet at the top, Urnaments and Pet Urnaments can be displayed on a Christmas tree or anywhere else in the home.
For more Information please go to http://www.urnaments.com