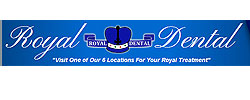 He [Dr Radford] brings valuable experience and his skills will be an asset to our practice and patients alike.
Houston, TX (PRWEB) July 30, 2012
The corporate office of Royal Dental announced the addition of Dr. Garry Hamilton Radford, Jr., as its new pediatric dentist for the company's six dental offices in the Greater Houston area. Dr. Radford currently serves as a board member of HealthVelocity Group, Ltd. He is also a member the American Dental Association, the American Academy of Pediatric Dentistry, the National Dental Association, and many other dental associations and organizations.
"We are excited and proud to welcome Dr. Radford to our team," said Al Alamia, Royal Dental's general manager. "He brings valuable experience and his skills will be an asset to our practice and patients alike."
For more than 40 years, Dr. Radford has maintained a deep connection with his community through oral healthcare. He has designed and administered many dental service programs geared towards underprivileged youths, including the Head Start Program, the Model Cities Dental Program, the Migrant Workers Dental Program, the Follow Through Dental Program, and the Urban Development Program. Through these programs, ranging from 1969 until 1997, Dr. Radford has treated more than 100,000 disadvantaged children. In addition to his many contributions in the dental industry, Dr. Radford had owned and operated Almeda Dental Group located in the Texas Medical Center for more than 20 years.
Dr. Radford graduated from Fisk University in Nashville, Tennessee with a B.S. degree in Mathematics. After college, he attended Meharry Medical College, School of Dentistry from 1959 until 1963. Following dental school, Dr. Radford attended Eastman Dental Center in Rochester, NY, where he received his certification in pediatric dentistry along with the Outstanding Young Men of America Award in 1967.
About the company:
Royal Dental is a state of the art, dental practice that combines family dentistry with specialty dental care such as; orthodontic dentistry, oral surgery, periodontics, and pediatric dental services with practices located in Houston, Texas and surrounding areas. The practice is known and respected for bringing the art and science dentistry together to improve the lives of its patients. For more information visit their website at http://royaldentalusa.com.