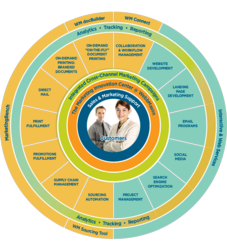 WebbMason's multi-channel marketing expertise and portfolio of services were a key component in the success of Highmark's Health Partner Program.
Hunt Valley, MD (PRWEB) July 31, 2012
WebbMason (http://www.webbmason.com), an integrated marketing solutions and services company headquartered in suburban Baltimore, today announced that its online marketing services group, WebbMason Interactive, has successfully moved into new markets, expanded its roster of new clients, and increased services to existing clients during the first half of 2012. WebbMason Interactive provides web and microsite development, search marketing, social media, email, and other online offerings to leading consumer, healthcare, financial services and business-to-business brands throughout the United States.
First half results for the year included significant cross-sell into WebbMason's base of MarketingBench™ customers and an expanded service offering to reach new markets. In May, WebbMason Interactive launched WebbMason Social Media Services, adding capabilities that include social media strategy and policy development, content creation, and social media interaction.
Market Traction
Over the past six months WebbMason Interactive has made great strides in creating added value for its customers through its ability to maximize marketing return by integrating direct mail and email campaigns, and provide integrated analytics dashboards that allow clients to measure results and adjust campaigns midstream. Highlights of the first half are:

Successful new integrated campaigns and interactive solutions for a range of clients including: Apartment Services, Inc.; Thomas & Betts Corporation, and Williamson-Dickie Manufacturing Company.
Expanded engagements with existing customers, including: Highmark* and Kiddie Academy.
*Highmark was awarded a Gartner and "1to1" Media CRM Excellence Award in the integrated marketing category as a result of the work done by WebbMason Interactive. "WebbMason's multi-channel marketing expertise and portfolio of services were a key component in the success of Highmark's Health Partner Program. The exponential increase in 2011 enrollment, exceeded our expectations," said Cynthia M. Dellecker, senior vice president, Highmark Senior Markets and Health Plan Operations.
WebbMason Interactive offers a full array of marketing products and services, including:

Website development
Microsite landing page construction
Search engine marketing
Social media programs
Direct response video
Email marketing
Mobile applications using HTML 5
Website and integrated marketing campaign analytics
"Successful marketing solutions must be integrated to be effective. The combination of WebbMason's heritage and expertise in promo and print management and WebbMason Interactive's core digital marketing strengths uniquely position our company to plan, deliver, and measure multi-channel solutions that pair online and offline marketing," said Doug Traxler, executive vice president of sales and marketing at WebbMason. "WebbMason Interactive connects offline and digital marketing services for clients in a way that few other companies can. Add in our renowned commitment to customer service and extensive network of partners and suppliers, and the WebbMason value proposition can't be beat."
About WebbMason
Founded in 1989, WebbMason is one of the fastest-growing integrated marketing solutions and services providers in the United States. It helps marketers and operations professionals manage brand consistency, streamline processes and save money through a winning combination of industry expertise, exceptional promo and print management capabilities, and technology innovation. WebbMason has 20 sales offices and seven warehousing, distribution and fulfillment locations throughout the United States. Learn more at http://www.webbmason.com.
Social: #Integrated Marketing, #MarketingBench, #WebbMason Interactive
###
Contact:
Carol Wolicki
Vice President, Marketing
410-785-1111 ext. 1111
cwolicki(at)webbmason(dot)com
Chas Kielt
Corporate Communications
617-833-3649
ckielt(at)webbmason(dot)com